We're kicking off the year with some joy from artist Nancy X. Valentine
Art, a correction, some celebration and 2 job openings
Art, a correction, some celebration and 2 job openings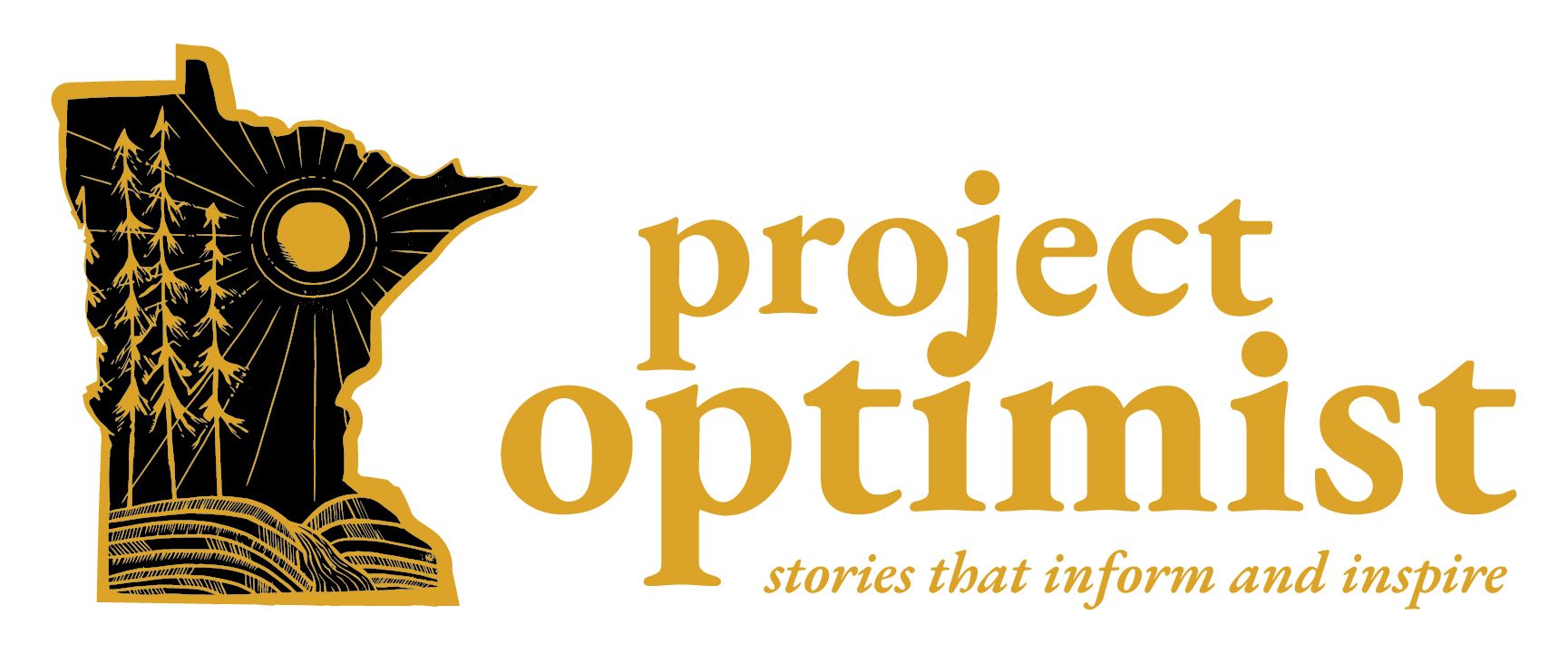 Thank you, thank you!
Happy 2023, friends! Nora here, with a heartfelt thank you. Many of you chipped in to make Project Optimist's first fundraiser a huge success.
We raised more than $1,600. That will go toward freelance reporters and in the salary fund to cover new positions. That's the kind of growing we plan to do this year: more staff, more journalism, more events and more art.
If you're interested in working for Project Optimist, there are position descriptions at the end of today's newsletter.
Before I move to today's feature, I need to apologize for leaving out one panel last week from Project Optimist's Year in Review. I forgot the page highlighting my freelancers in 2022. So here it is: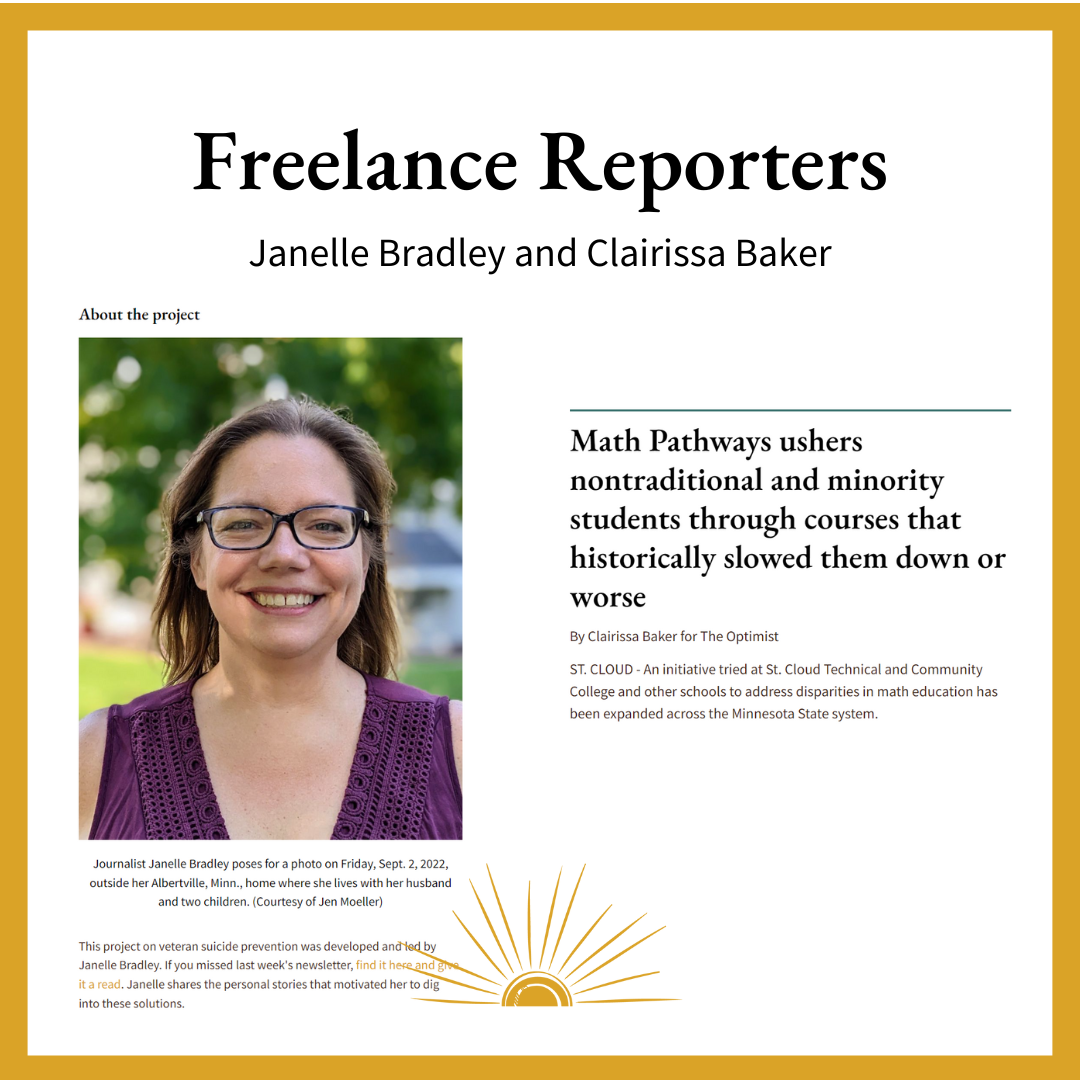 This was page 7 from Project Optimist's Year in Review. It was accidentally left out of the Dec. 28, 2022, newsletter. Apologies for the omission, especially to Janelle Bradley and Clairissa Baker!
Today we are featuring the beautiful artwork of Nancy XiáoRong Valentine. She's created a number of series, which are lovely and thought-provoking. Nancy has pulled a selection to share with us today. The descriptions are by the artist.
Artist's Joy: Nancy
XiáoRong Valentine and 4 pieces from various projects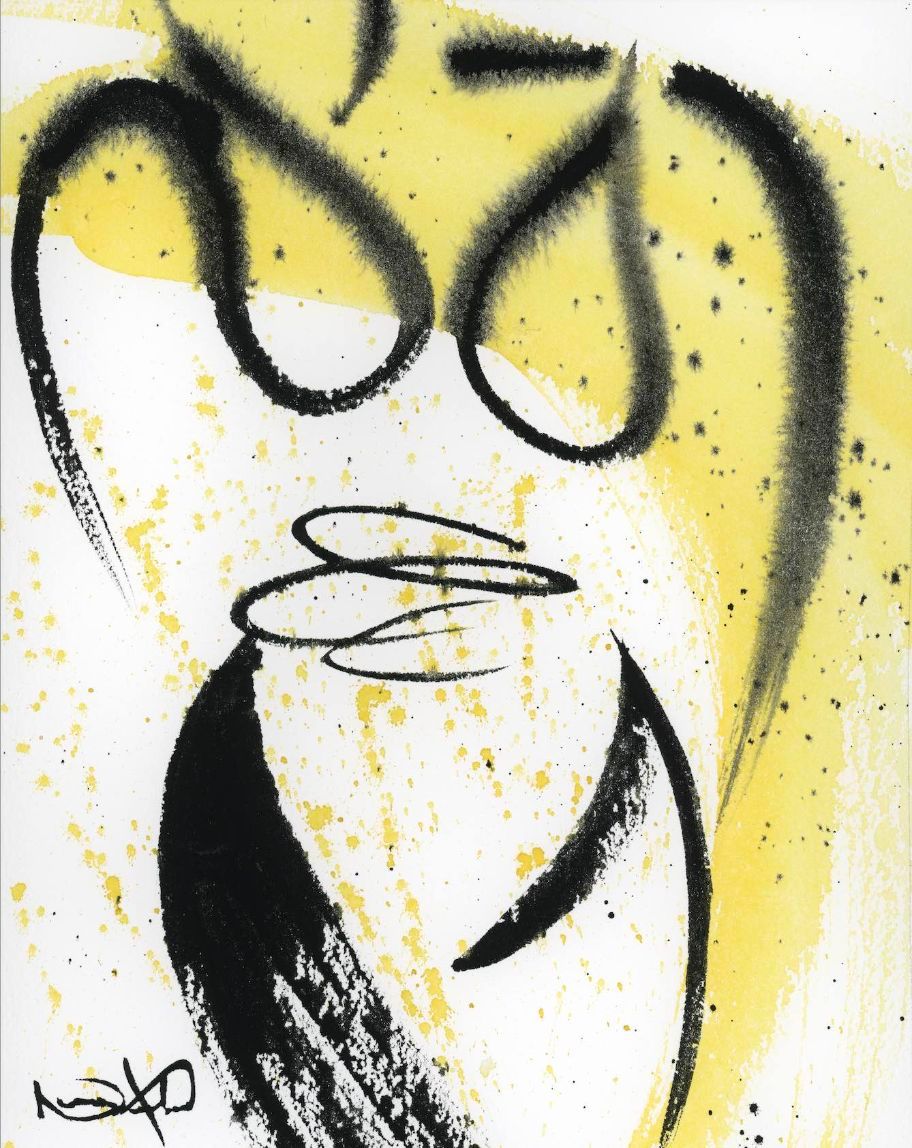 'Untitled' | 9" x 12" Watercolor + Chinese ink on cold pressed watercolor paper | Created in 2018 as a part of 'Summer Sessions' solo exhibition at Workhorse Coffee Bar in St. Paul, Minn., a part of 2019 exhibition titled 'Body Positivity' at New York Mills Regional Cultural Center, and again as a part of 'Endless Scroll…' at Waage Theatre at M State Fergus Falls in 2020. (Courtesy of Nancy XiáoRong Valentine)
Untitled
"Untitled" is an abstract self portrait I created in June of 2018 using watercolor and Chinese ink. This painting brings me joy because it's the first artwork I created that truly reflected my stylized brushwork. Originally a part of a series titled "Summer Sessions," this painting has set itself apart as a stand-alone artwork that has been exhibited in multiple multi-artist and solo exhibitions.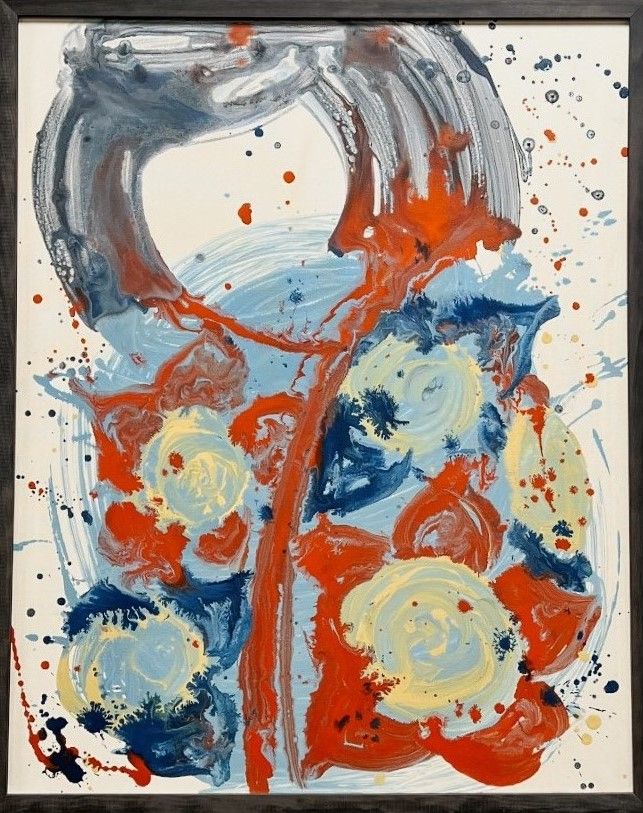 'Kokeshi Doll' |24" x 30" Recycled latex paint on canvas | Created in February 2022 as a part of 'Half Chinese, All American: My Diasporic Diary' at Prairie Renaissance Cultural Alliance Gallery in Morris, Minn. Photo taken at Fergus Falls Public Library, which acquired the painting for their permanent collection in June 2022. (Courtesy of Nancy XiáoRong Valentine)
Kokeshi Doll
"Kokeshi Doll" is a painting about exploring and "discovering" my cultural identity as a Chinese woman raised in the Western Asian Diaspora, as well as an experiment in translating technique across mediums. Kokeshi dolls are of Japanese origin, but I did not come to understand this until adulthood because of the western gaze I was socially conditioned to hold. The colors and energy of this painting represent the emotional state I was experiencing during that season of learning the distinctions among and between the vast number of cultural identities that fall under the umbrella of "Asian."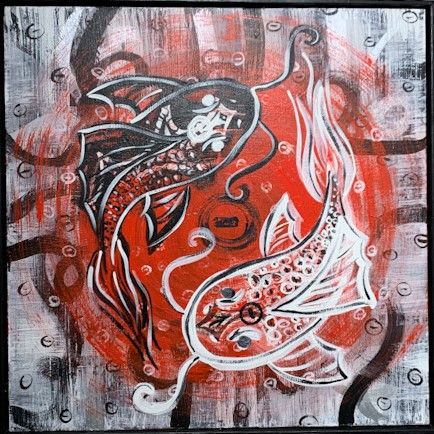 'Yin & Yang' | 21" x 21" Recycled latex and acrylic paint on wood panel | Created fall 2021 as a part of the 'Lake Region Artist Cohort Exhibition' in Studio K at Kaddatz Galleries in Fergus Falls, Minn. Photo taken at that exhibition. (Courtesy of Nancy XiáoRong Valentine)
Yin & Yang
"Yin & Yang" is a painting about family secrets and saving face. The koi fish represent the Taìjí tú concept in Chinese philosophy of interconnected interdependence of darkness and light, feminine and masculine, or chaos and peace. Symbols used in this painting were inspired by Vaatu and Raava, energetic spirits depicted in "Avatar: The Last Airbender," an animated television show I watched with my older brother during our youth. The layers of this painting represent the ways in which Asian families articulate narratives that often allude to difficult truths in ways that allow them to maintain their positive public reputations.
Feature continues after the promotion.
Promotion from Project Optimist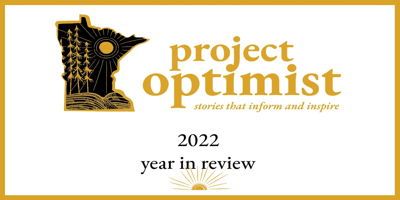 Check out our Year in Review
Project Optimist was busy in 2022, and we've got big plans for 2023. Check out our Year in Review and all past issues of the newsletter in our archive. Send it to your friends who need a bit of hope for the new year.
Explore our archives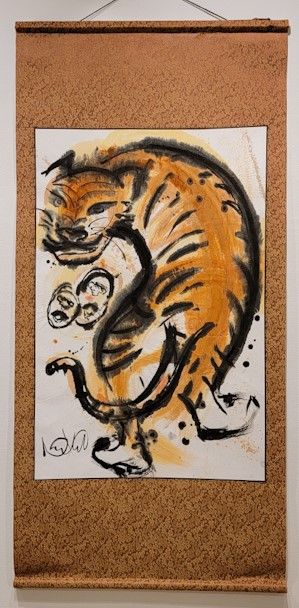 'Tiger Mom' | 3' x 6' Watercolor + Chinese ink on rice paper dry mounted to silk brocade | Created in spring 2021 as a part of 'The Audacity to be Asian in Rural America: we owe you no apologies,' a project of Springboard for the Arts' Artists Respond: Equitable Rural Futures. Photo taken during solo exhibition at MacRostie Art Center in Grand Rapids, Minn., April to May 2022. (Courtesy of Nancy XiáoRong Valentine)
Tiger Mom
"Tiger Mom" is about understanding cultivated through intention and personal evolution.This painting was created during a time when I was trying to "bridge the cultural gap" between me, an American-born Chinese woman, and my mother, a Chinese-born Chinese woman. The posture of the tiger juxtaposed with the baby shoes represents the ferocity of motherhood that comes out when the wellbeing of one's offspring is threatened, which, in my experience as a part of a first generation immigrant household, was constant.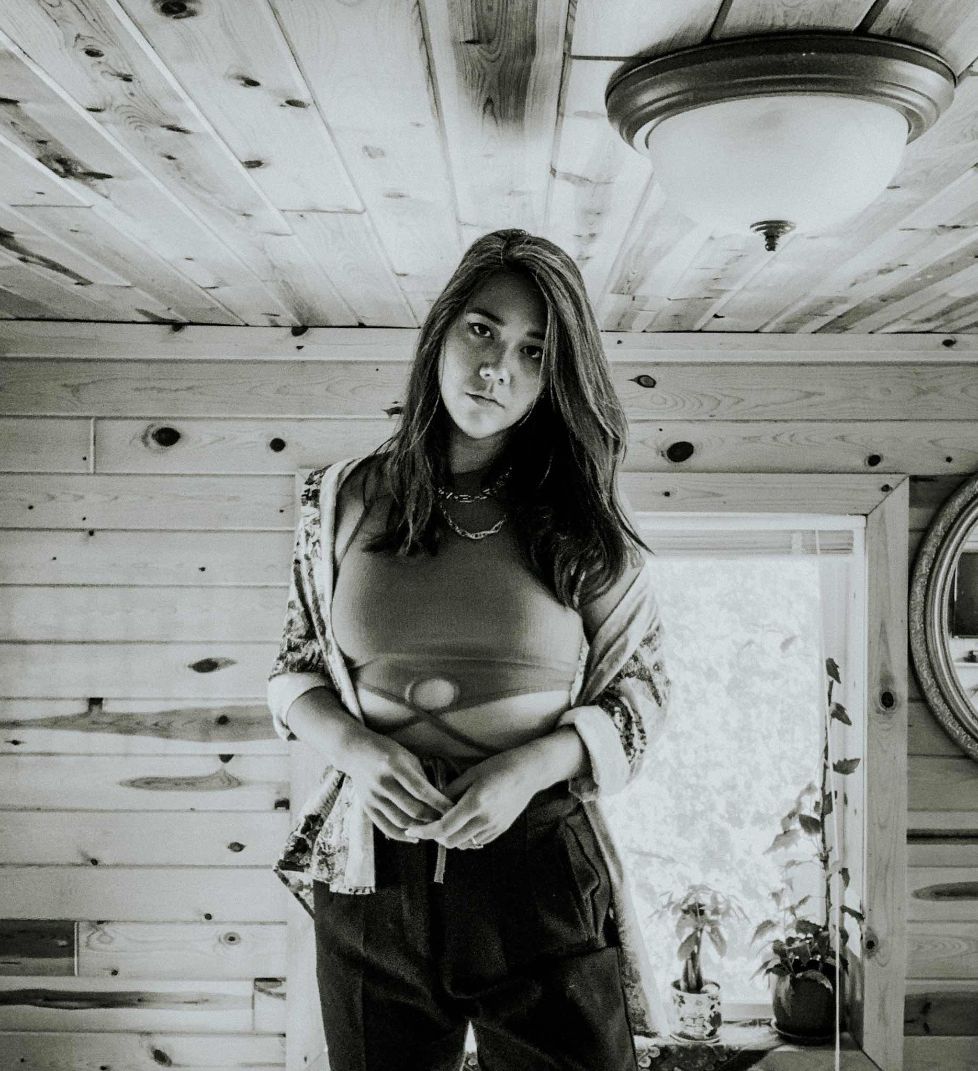 Artist Nancy XiáoRong Valentine (Courtesy of Nancy XiáoRong Valentine)
Meet the artist
Nancy XiáoRong Valentine is a Chinese American artist living and making a life in rural Otter Tail County, Minnesota. Conceived as the second child of a family residing in Lanzhou, Gansu during the era of China's 'One Child Policy,' Valentine views her artistry as a channel to deepen her cultural connections to and between her Chinese heritage and Midwestern roots. Valentine's artwork is woven with nuance and symbolism resulting in conceptually complex and vibrant visual stories meant to evoke empathy.
Help create more optimism: Come work with Project Optimist!
Position: Chief Revenue Officer - full time
Mission: Raise revenue for Project Optimist operations and growth through sponsorship sales, ad and branded content sales, member and large donor fundraising and grant scouting. The revenue will support unique, solutions journalism, local art, community building and problem solving programs, journalism training and media literacy education.
Responsibilities:
Develop a sustainability plan for Project Optimist and other important internal systems.
Coach and advise the executive director on revenue matters.
Develop relationships with large individual donors and bring in donations.
Scout and identify large grants to support Project Optimist programs and work with the executive director to apply.
Develop and launch ad sales and branded content programs for the newsletter and website.
Sell sponsorships for Shades of Purple event series, SOP podcast and other large journalism projects.
Execute the 2023 fundraising plan and develop a plan for 2024, etc.
Eventually: Hire and supervise sales and development staff.
Needed skills and experience: Five years of experience in fundraising or sales. Connections to central Minnesota. Committed to the mission of Project Optimist. Self-directed and entrepreneurial - able to forge new ground for the organization. Creative in how you approach potential partners.
Salary: $65,000, half via commission with opportunities for rapid growth. Insurance stipend for 2023 with benefits beginning in 2024.
Position: Event manager - full time with option for 30-hour weeks
Mission: Plan and execute events, primarily the Shades of Purple: Dialogue across difference in greater Minnesota project, to spur community bridging and collaboration and support the overall vision of Project Optimist.
Responsibilities: Manage Shades of Purple events including participant recruitment and screening, volunteer coordination, collaborating with event partners, surveying participants and supporting the program's marketing. Responsibilities also include co-planning a June fundraiser event and supporting additional outreach opportunities.
Needed skills and experience:
Played a leadership role in planning and executing large events.
Experienced with logistics - coordinating many people and other moving parts.
Strong communicator with a wide range of partners from volunteers and clients to sponsors, contractors and internal staff.
Experience measuring and reporting on the impact of nonprofit programs or events.
Can stay within budget and find ways to generate revenue at events.
Salary: $45,000 to $65,000, with opportunities for growth. Insurance stipend for 2023 with benefits beginning in 2024.
To apply for either position, send a resume and cover letter to nora@theoptimist.mn with the name of the position in the subject line.
Thanks and be well!
Our mailing address:
P.O. Box 298
St. Michael, Minnesota 55376

Copyright © 2023 The Optimist, All rights reserved.