Media mentions
Project Optimist has been in the news lately!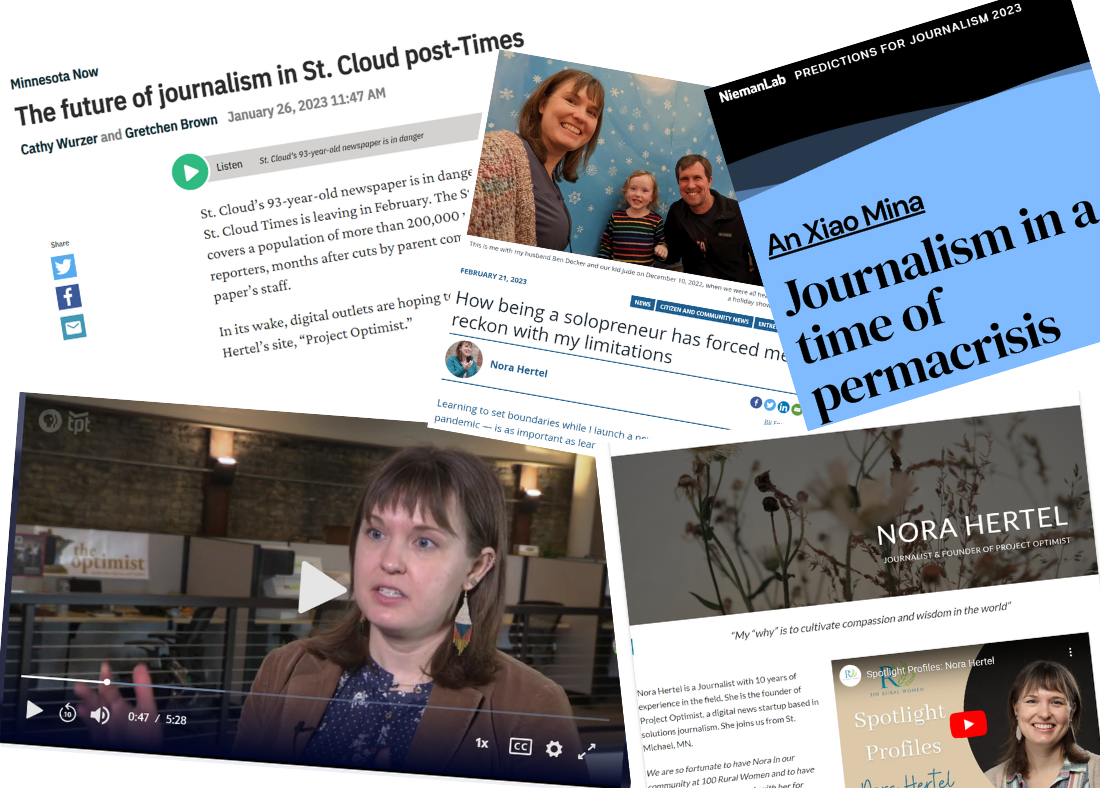 June 2023
Project Optimist and our founder gets a shout out in a column about the Initiators Fellowship in the Star Tribune.
May 2023
Patrick Henry, a member of the St. Cloud Times' writers group, features solutions journalism and Project Optimist in a column. He calls founder Nora Hertel a "hard-boiled hope detective" and "an EMT, with skills and equipment for resuscitating the press."
April 2023
100 Rural Women Spotlight Profiles: Watch or read an in-depth profile featuring Project Optimist founder Nora Hertel and her journey to Minnesota, journalism and to leadership.
February 2023
The St. Cloud Times became a case study of newspaper decline when it lost all news staff to layoffs, buyouts and resignations. Project Optimist founder – and former St. Cloud Times reporter – Nora Hertel speaks with Twin Cities PBS about these changes and challenges:  Cloudy Times: Kaomi Lee takes us to St. Cloud where the media landscape is rapidly changing
Founder  Nora Hertel shares in a personal essay on the challenges and growth that come with launching a news startup in a pandemic.
January 2023
Project Optimist is featured by St. Cloud Shines, which highlights positive stories about people, places, events, businesses and organizations in greater St. Cloud.
Founder Nora Hertel reflects on "The future of journalism in St. Cloud post-Times" on MPR's Minnesota Now.
December 2022
Project Optimist and founder Nora Hertel gets a shout out by one of our former coaches, An Xiao Mina, in a Nieman Lab essay about the future of journalism.
November 2022
The fabulous Star Tribune editor Gail Rosenblum gives a  nod to Project Optimist in the column announcing her retirement an d cheering on "hope-filled, solutions-focused news."
Project Optimist is among 16 publishers selected to join  the  2022 GNI Startups Labs on Building and Managing a Team .
August 2022
In an essay for the Reynolds Journalism Institute, Project Optimist founder Nora Hertel shares the  early development of the organization and its dual focus on solutions journalism and community conversations.
April 2022
Reynolds Journalism Institute announces  funding for three news startups including Project Optimist (then called The Optimist) in spring 2022.
Initiative Foundation features its 2022 to 2023 Initiators Fellows, including Nora Hertel, in its spring issue of IQ Magazine.
December 2021
Nora Hertel answers  three questions for her alma mater University of Wisconsin-Madison about launching Project Optimist and her career in journalism.