We got a major grant & kicked off a major event
Project Optimist's dialogue across difference program is ready to soar
Project Optimist's dialogue across difference program is ready to soar
Shades of Purple is ready to soar
By Nora Hertel, founder of Project Optimist
Quilts lined the walls at the Stearns History Museum where a couple dozen people engaged in a conversation about belonging Saturday night. Cinnamon-infused rice and roasted meats and vegetables scented the air. And participants exchanged earnest personal stories – and many smiles – at Project Optimist's first dialogue event in St. Cloud.
This first event in our Shades of Purple series focused on belonging and cultural bridging, because that's what emerged during conversations with our first partners. St. Cloud is known for its large population of East African refugees, a related emergence of racism and Islamophobia and ongoing efforts toward equity and inclusion.
Early this year I started brainstorming for this event with Shirwa Adan, executive director of the Central Minnesota Community Empowerment Organization and Carie Essig, executive director of the Stearns History Museum. The museum hosted our group of about 30 people. And CMCEO sponsored a feast of Somali food for the attendees.
It was a great event in its own right.
And we're just getting started.
I'm thrilled to announce that the McKnight Foundation has granted Project Optimist $50,000 to carry out our plans for Shades of Purple this year, which include a podcast season about the dialogue experience. I've been dancing for joy about it. (And if you know me outside of work, you know I mean that literally.)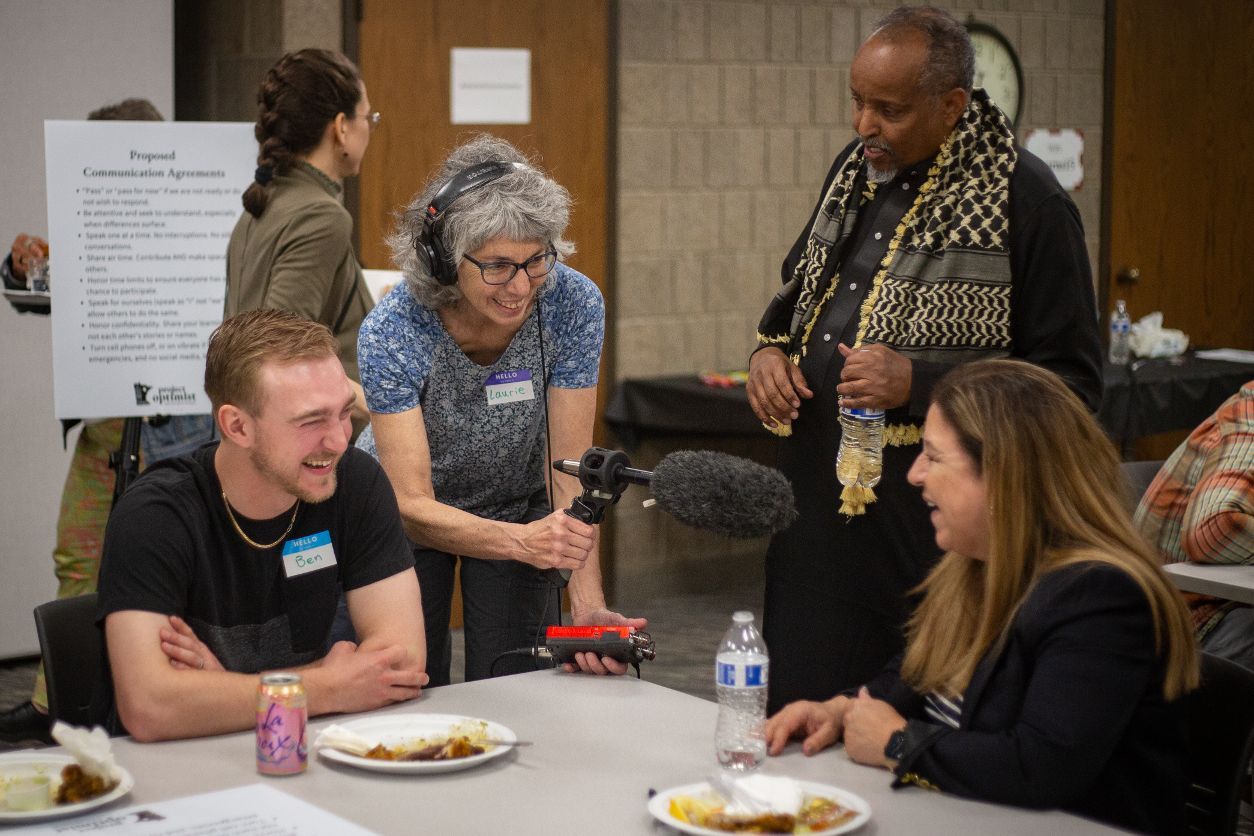 Participants in the first Shades of Purple dialogue speak with journalist Laurie Stearn on Saturday, May 13, 2023, in St. Cloud. The event was a partnership between Project Optimist, Central Minnesota Community Empowerment Organization and the Stearns History Museum. (Shannon Rathmanner for Project Optimist)
Support Project Optimist with a donation!
Much of my mental space this year has been dominated by Shades of Purple: researching community dialogue programs, recruiting and training moderators, fundraising and planning the logistics. It's work I began a year ago, when I determined civil conversation events align perfectly with Project Optimist's mission to engage our community in problem solving. Shades of Purple will also enhance our journalism and open doors for collaborations across the state.
I am grateful that I can relinquish some of this important work to Project Optimist's first staff person, Alexa Shapiro, who will be managing and coordinating the conversation series going forward.
I feel a great sense of possibility as the dialogue program takes these big steps forward.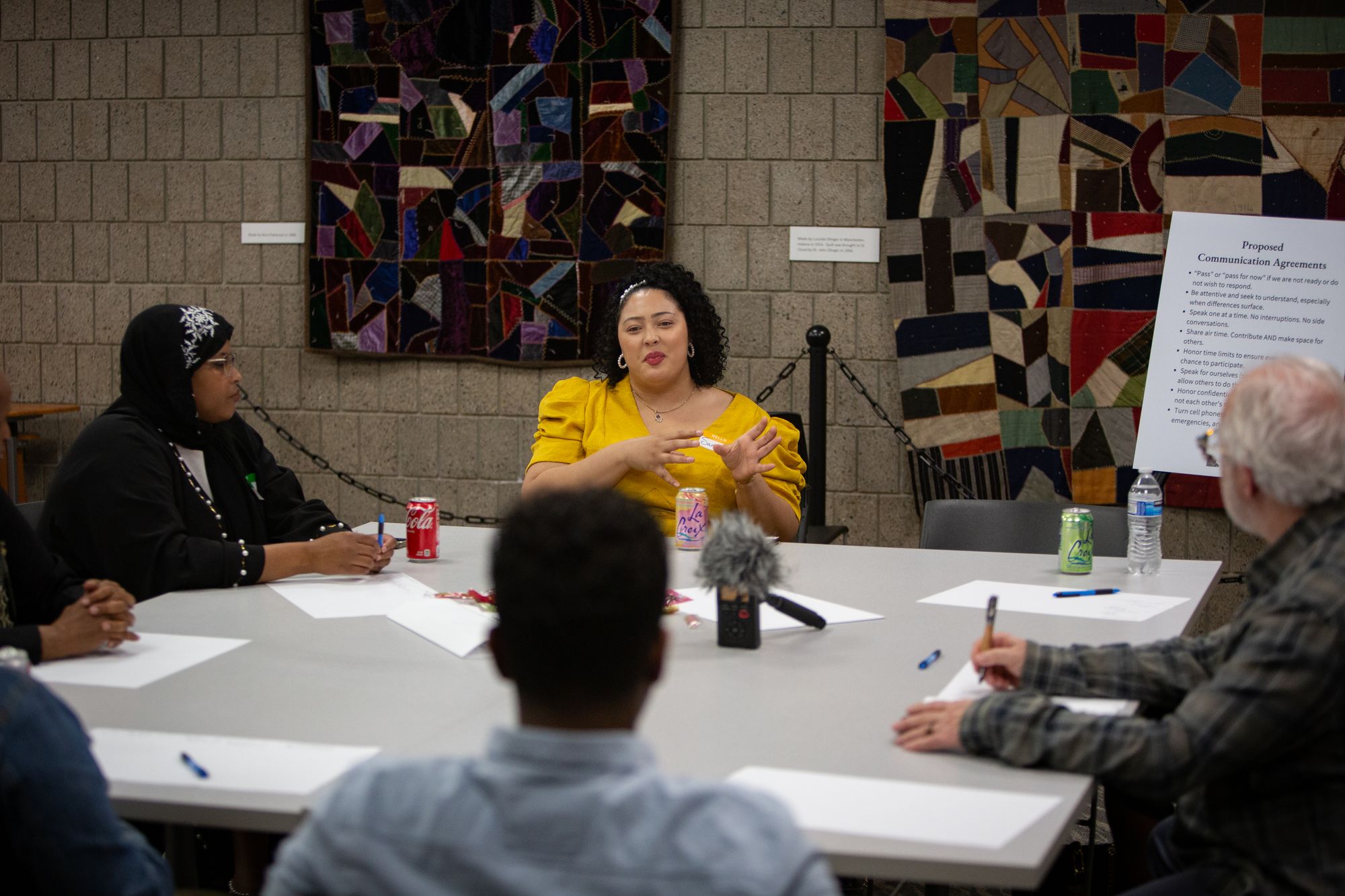 Participants in the first Shades of Purple event share in a guided conversation Saturday, May 13, 2023, in St. Cloud. (Shannon Rathmanner for Project Optimist)
There is something very special about the type of structured dialogue we're using. The model comes from an organization called Essential Partners I hired to train our moderators and help plan our first events.
Moderators follow a script, enforce ground rules that participants agree to, ensure everyone has equal time to speak and pose long open-ended questions meant to prompt personal storytelling. The dialogue scripts include time for a breath between each speaker and note-taking between questions.
These details help cultivate an environment for close listening. It makes for a very intimate vibe. On Saturday, we had three moderators and each supported a group of six or seven people.
When I have experienced this kind of conversation, it felt magical to me. It's so unusual and enriching to speak and be heard by fully attentive ears. Especially amid the polarization and disconnection rampant in our digital age.
You will be most welcome to participate in future dialogues online. We're holding a few more in-person events this year too. We're also documenting the process.
On Saturday, an audio engineer started to collect interviews and soundscapes we will cobble into a podcast series. It will hopefully capture the joys and occasional discomfort participants may feel as they open up in a dialogue. And the podcast will show how possible it is to engage in civil conversation.
I am planning another moderator training if you would like to join our fearless team of conversation facilitators. I am so very grateful to our three moderators who volunteered their time on Saturday, including Sara Nimis who traveled from Bemidji to support us (!) along with Bob Filipczak and Chantal Oechsle.
I'm full of gratitude and excited for what's next!
Here's another chance to donate!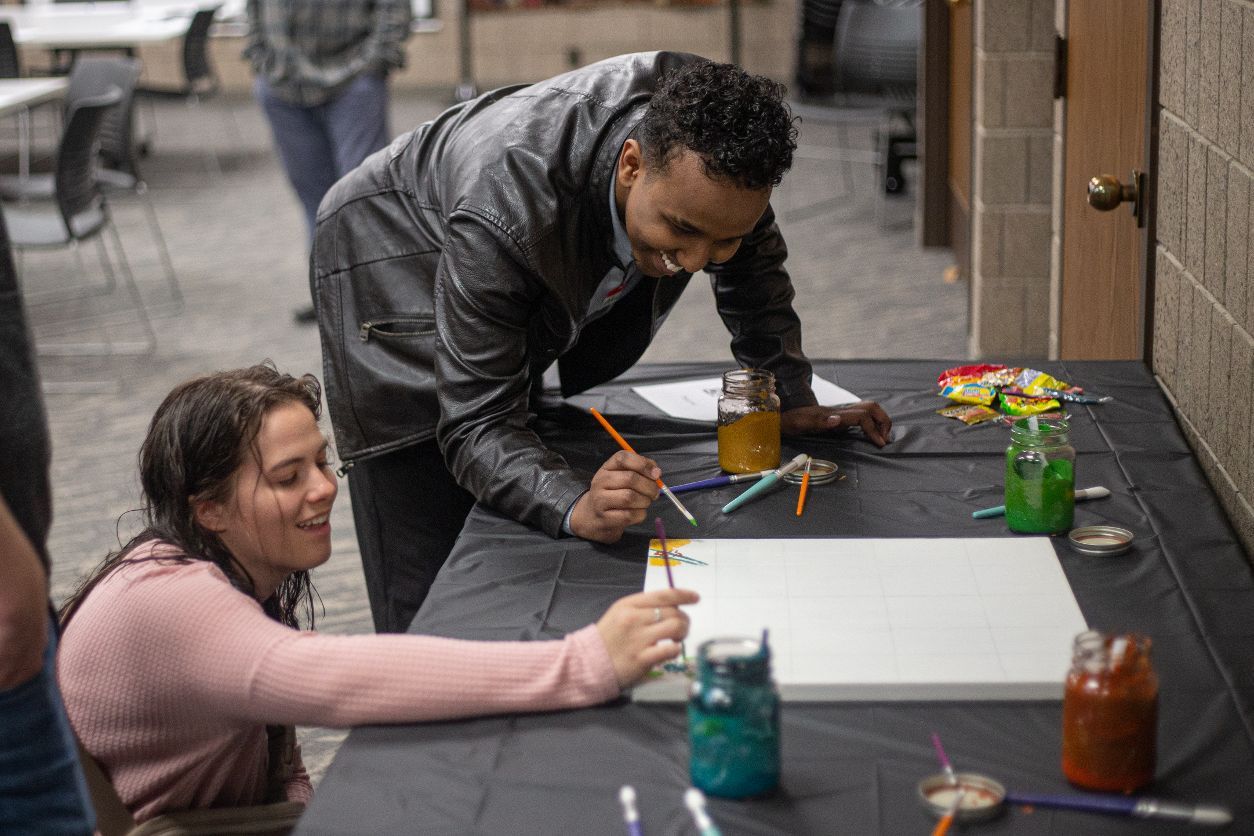 Participants in the first Shades of Purple event add to a collaborative art project on Saturday, May 13, 2023, in St. Cloud. (Shannon Rathmanner for Project Optimist)
Copyright © 2023 The Optimist, All rights reserved.
P.O. Box 298, St. Michael, Minnesota 55376