Our student writer makes climate migration personal
We've got a student column this week and some recommended stories
We've got a student column this week and some recommended stories
Have you ever been forced to leave your home?
Good day everyone, Nora here. I'm getting back into the swing of things after a refreshing break in San Diego. It was a first trip with my spouse (just us!) since our child was born four years ago. We hardly knew what to do with ourselves and spent a lot of time watching birds and sea lions.
This week's newsletter focuses on a different kind of displacement. We have a column from our student reporting project with insights on climate migration.
Minnesota is likely to be a destination for climate migrants as global warming intensifies. In fact, it already is. A few days ago the New York Times published a story on migration to "climate-proof Duluth."
You can find that story here. The piece focuses on people bringing resources to the area as they leave more expensive housing markets. It glosses over the changing climate in Minnesota and many other related complications.
But you can learn more about climate migration right here, right now!
Support Project Optimist with a donation!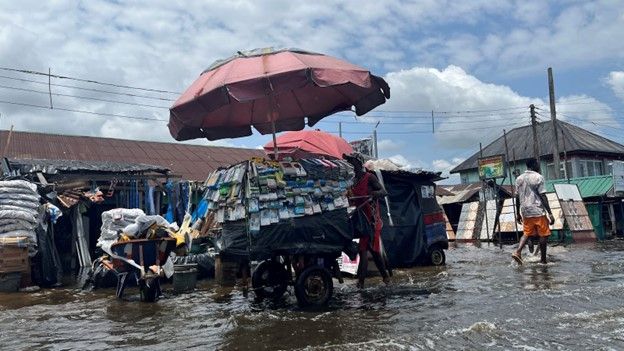 A man pushes a cart across the street as flood water continues to displace people in Yenagoa Nigeria, October 18, 2022. (REUTERS/Tife Owolabi)
COLUMN | What climate migrants want from us: Accountability and legal status
Climate migrants and experts share what we can do to be part of the solution.
By Fredi Ponce Parra for Project Optimist
This story is part of a grant-funded program at Project Optimist that involved basic journalism training for student and community reporters in central Minnesota. A group of 20 environmental studies students received the training, did field reporting at the U.N. Climate Change Conference and filed stories that highlight their research. Fredi Ponce Parra is a junior at the College of St. Benedict and St. John's University (originally from Minneapolis, Minn.) with a major in political science and a minor in history.
Climate and migration are linked together.
The term "climate mobility" conveys that climate change plays a role in migration. Because there is climate change, people have to leave their homelands. In most instances, climate migrants don't contribute much to climate change but pay immense prices for it.
I attended as an observer the United Nations Climate Change Conference, also called COP27, in Sharm El-Sheikh, Egypt. While I was there, I worked on original research on climate mobility. I conducted three interviews with experts on the matter and learned about what climate migration meant to them and how it has impacted their lives.
"Climate migration is something dear to me," Sophie Nabukenya from Uganda told me. "It means a lot to me as a young person who has grown up in a slum, seeing how floods have been affecting us and seeing how we've, me and my family, had to migrate from one place to another then coming back to the same slum because of climate change. So that means really a lot to me as a person growing up in a slum." Nabukenya was a Climate Mobility Youth Delegate to COP27 for the Global Centre for Climate Mobility.
Joseph Inyama calls Nigeria home. Inyama is also a PhD candidate in human geography from Radboud University in the Netherlands. I asked him what countries like the United States can do to be part of the solution. He said legal status on an international level can be a first step. This was a common view among speakers at the Global Centre for Climate Mobility pavilion at COP27.
Currently in the United States there is no legal status that can help climate refugees. And the United States isn't alone in this. Globally, climate refugees are not acknowledged legally. Once we acknowledge that climate refugees exist through a legal lens, we can begin to do more for them.
"If you want the voices of climate refugees to be heard then you need to give them a legal status" Inyama said.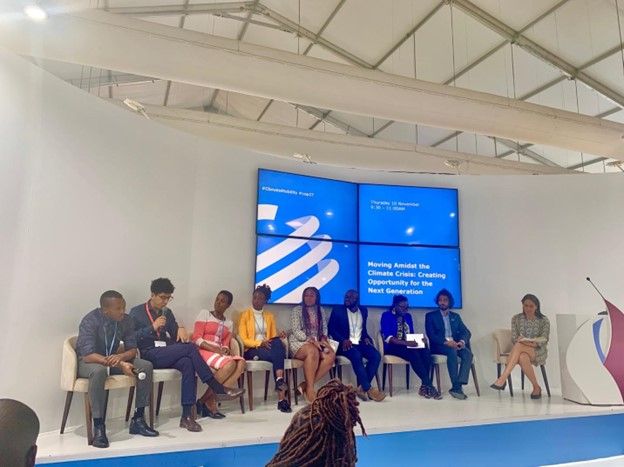 Panelists at COP27 in Sharm el Sheikh, Egypt, speak about "Moving Amidst the Climate Crisis: Creating Opportunity for the Next Generation," at the Global Centre for Climate Mobility on November 10, 2022. (Courtesy of Fredi Ponce Parra)
I also interviewed Lukmon Akintola who is the Program Lead for African Climate Mobility Initiative at the Migration Youth and Children Platform. Akintola agreed with Inyama: "What we need is international recognition."
The most important thing right now is to recognize climate-displaced people as refugees and for them to have legal recognition around the world, Akintola said. "We needed to start becoming the front of [the] conversation of policy ideas of policy response." People on the front lines know what is best for their communities. They know themselves better than those of us in the U.S. can know them.
When we talk about climate change, we don't often talk about climate migrants and refugees. Nabukenya pointed out, "you'll hear people speaking of carbon and renewable energy. Yet climate migration is something that is so close to us, and it's something that needs greater attention."
It was a privilege to hear these stories. And with this information, I began to think of what I can do to support climate migrants who have migrated to Minnesota or will in the future due to political instability linked to climate change. It can be difficult to figure out what one person can do, but one thing that I did with my peers is advocate for climate migrants to U.S. Sen. Amy Klobuchar's office as well as U.S. Rep. Betty McCollum's office.
At times it feels like one group of people won't make any change, but if we truly want change, we must keep pushing for what we want to see. We need to acknowledge what our role in climate change is. We also have a responsibility to do something about the issue. We can advocate to recognize climate migrants with formal legal status, starting with our U.S. congressional delegates.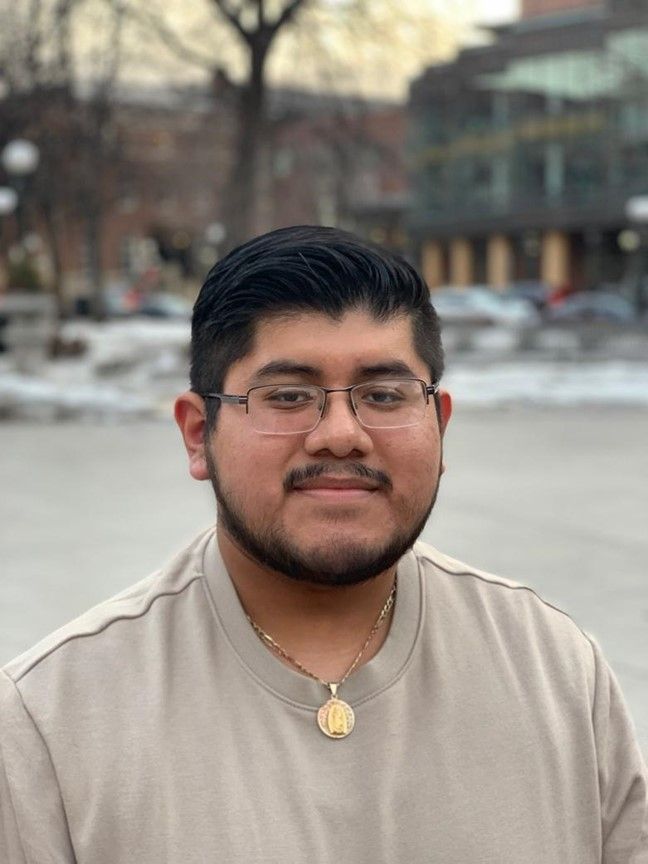 Fredi Ponce Parra is a junior at the College of Saint Benedict and Saint John's University (originally from Minneapolis, Minn.) with a major in political science and a minor in history. (Courtesy of Fredi Ponce Parra)
Promotion from Project Optimist
Project Optimist is growing and we need your help!
Make a donation to our spring drive to help us report on central Minnesota solutions, hire local artists and host meaningful conversations.
Become a supporter!

Let's talk!
I'm making headway with the first conversation events in the Shades of Purple: Dialogue across difference in greater Minnesota program. We have a great group of collaborators in St. Cloud, and I'm laying the ground work for events in St. Michael and virtually.
I'm setting up training for our volunteer moderators. If you're worried about polarization and consider yourself even-keeled, I'd love to have you on board. Please send me a note expressing interest: nora@theoptimist.mn
If you want to learn more about this kind of depolarization work, here's a great solutions story from The Associated Press about a different dialogue project.
A key to bridging the political divide: Sit down and talk? (from 2021)
And if you're curious to learn about the model I'm using, here's a great history on the work of Essential Partners.
Abortion dialogues in greater Boston
I'm still hiring two positions: an event manager and a revenue officer. The folks who take these jobs will help shape the organization and hopefully serve in leadership roles for years to come. See the posts here.
Be well!
♥ Nora Hertel, founder of Project Optimist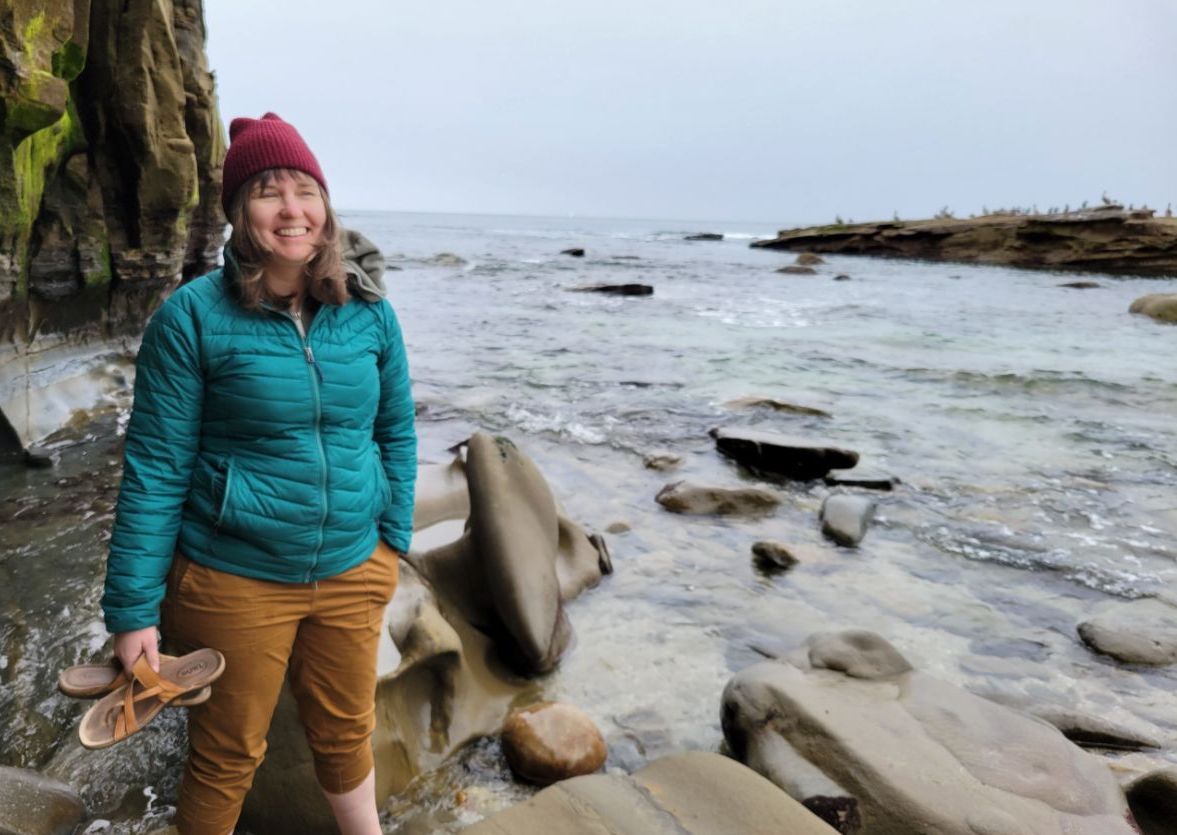 Here's another chance to donate!
Copyright © 2023 The Optimist, All rights reserved.
P.O. Box 298, St. Michael, Minnesota 55376