June is for birthdays, art and fundraisers
We're turning 1 and celebrating with Artist's Joy
We're turning 1 and celebrating with Artist's Joy
It's our birthday month!
Hello friends! Happy June!
Nora here, ready to celebrate the one-year anniversary of this newsletter.
To celebrate we've got swag for every new monthly donor or one-time donor of $25 or more. I have 250 envelopes and hundreds of Project Optimist notebooks. Stickers are coming soon.
Show me that I wasn't crazy to order so many, and make a donation today!
We've been publishing on this platform regularly since June 2022. You may have noticed that we missed last week.
I had some stubborn technical difficulties with the newsletter app. Project Optimist will move to a new web host and content management system this year, so you can probably expect a few hiccups. Thanks for bearing with me!
We will continue to put out some great content this summer and throughout the next year. This month we have an Artist's Joy feature, a Drawn from Nature column and a student-produced zine on Queer Climate Justice. Happy Pride Month, BTW!
We also have several deeply-reported solutions stories in the works on topics from clean energy and soil health to culturally-relevant parenting practices. Each original piece costs us about $600 to produce, edit and fact-check. If you've got a few bucks to spare, send some our way to help us cover costs and grow.
I'll step off my soap box now to introduce Phena Keil, an artist based in western Minnesota who turns castoffs into art. After months of planning, I am so pleased to feature this creator and her work!
Support Project Optimist with a donation!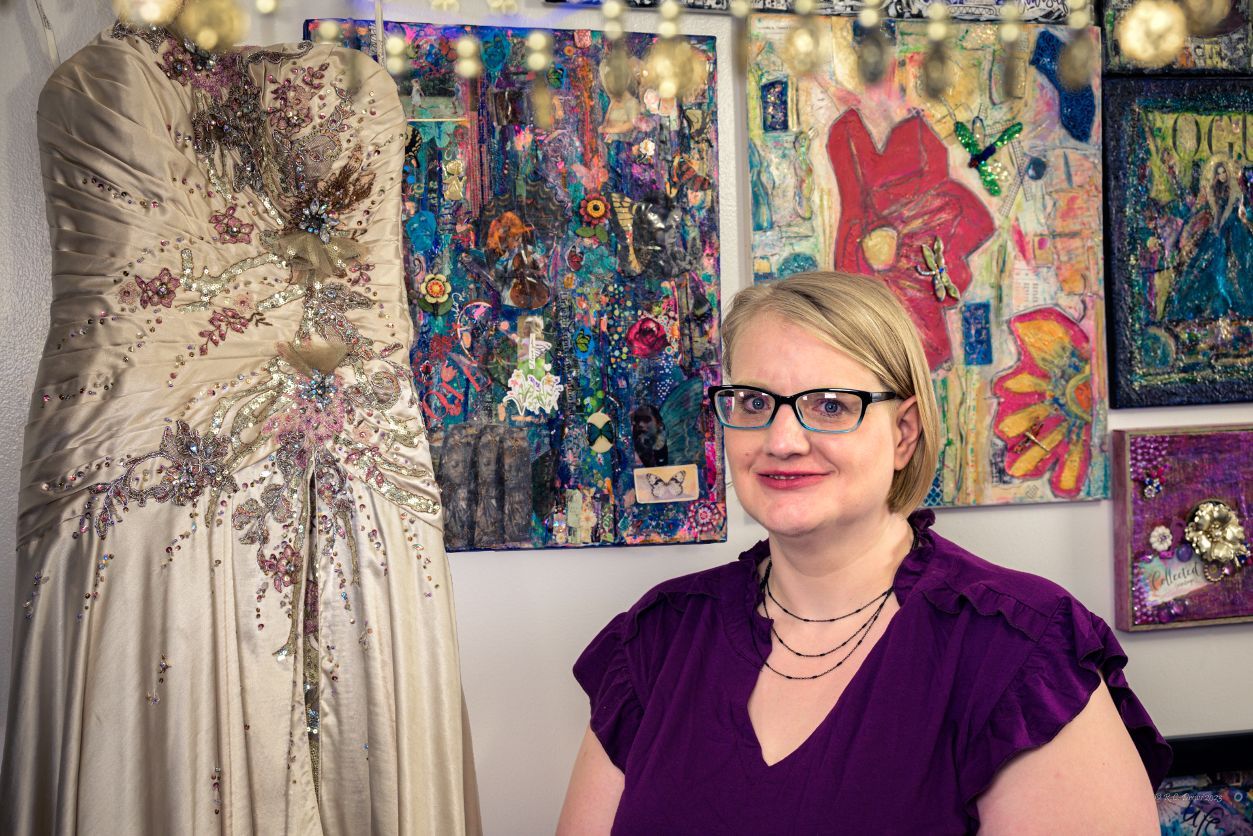 Artist Phena Keil poses for a photo with her work in Fergus Falls, Minn., on May 5, 2023. (R.C. Drews for Project Optimist)
Artist's Joy: 3 selections from 'treasure hunter' Phena Keil
By Susan McLemore for Project Optimist
Fergus Falls artist Phena Keil transforms society's castoffs into art: broken jewelry, electronics, prom dresses and other unique treasures, prolonging their significance through upcycling.
Phena was raised in rural Dent, Minn., and suffered from physical health issues as a child that continued into her adulthood and took a toll on her mental health. Rather than dwelling on her problems, Phena created art as a way to cope, eventually getting her Associate in Fine Arts from Minnesota State Community and Technical College in Fergus Falls, Minn.
Phena views upcycling as a way of life. She believes in taking care of the earth we live on and transforms waste into art as a way to give back and decorate the world. Phena began a journey of exploration with art journals back in 2015, creating collages in book form.
You can find her at Shady Hollow Flea market in Detroit Lakes, Minn., selling upcycled art supplies and vintage treasures. She hopes to get back to teaching art this fall. Her studio is always open to other artists who would like to sit and chat while seeing a glimpse into her world.
Phena loves to share her adventures in treasure hunting with others.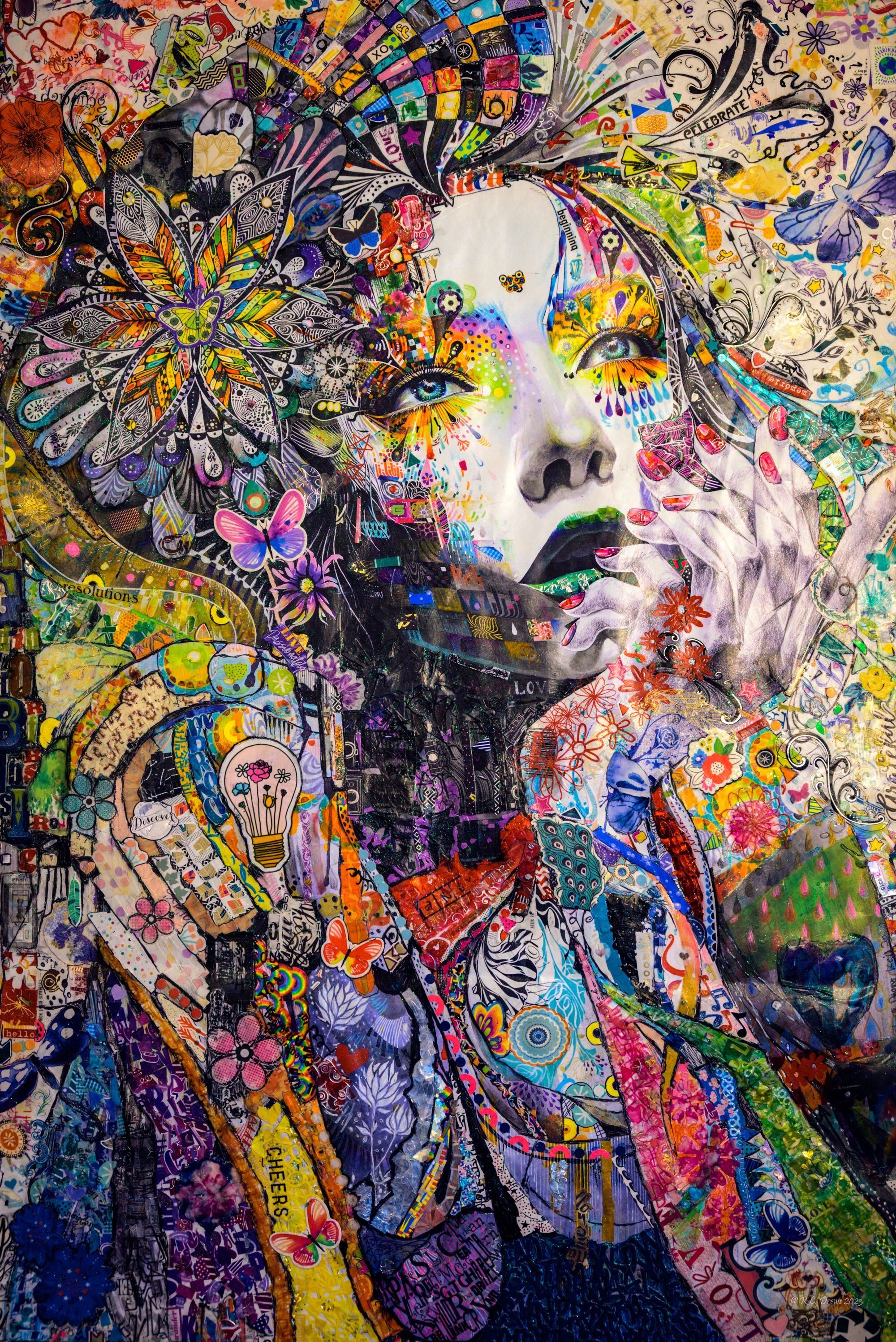 'The Beginning' | 2020 | Phena Keil (Photo by R.C. Drews for Project Optimist)
The Beginning
A sticker mosaic with accents of rub-ons and doodling. Phena Keil just let her creativity flow into each part of the piece. The frame is covered in repurposed nail polish. It's the first piece in her series called "Chaos Theory" using stickers in a mosaic form.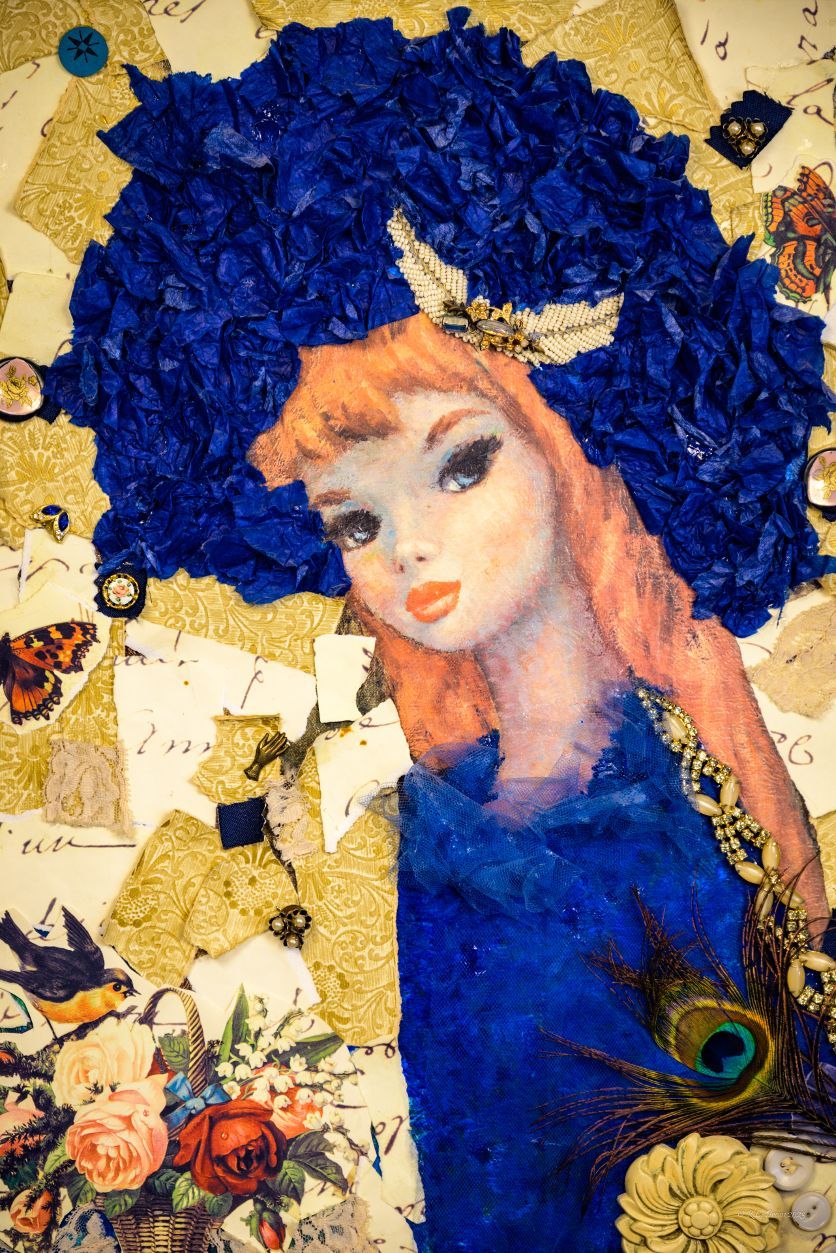 'Beauty in Blue' | 2012 | Phena Keil (Photo by R.C. Drews for Project Optimist)
Beauty in Blue
Done in Phena Keil's traditional collage style which she refined in college, she took her favorite things and repurposed items and encompassed them into the beauty that's blue. It was created with vintage wallpaper, jewelry and other found pieces.
Promotion from Project Optimist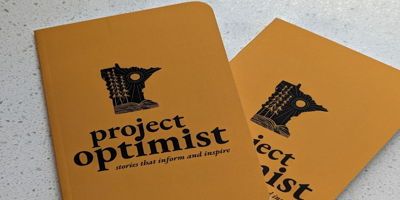 Make a donation and get some goodies!
We've got new Project Optimist notebooks with recycled paper and water-resistant covers for every donation of $25 & for new monthly donors.
Donate here!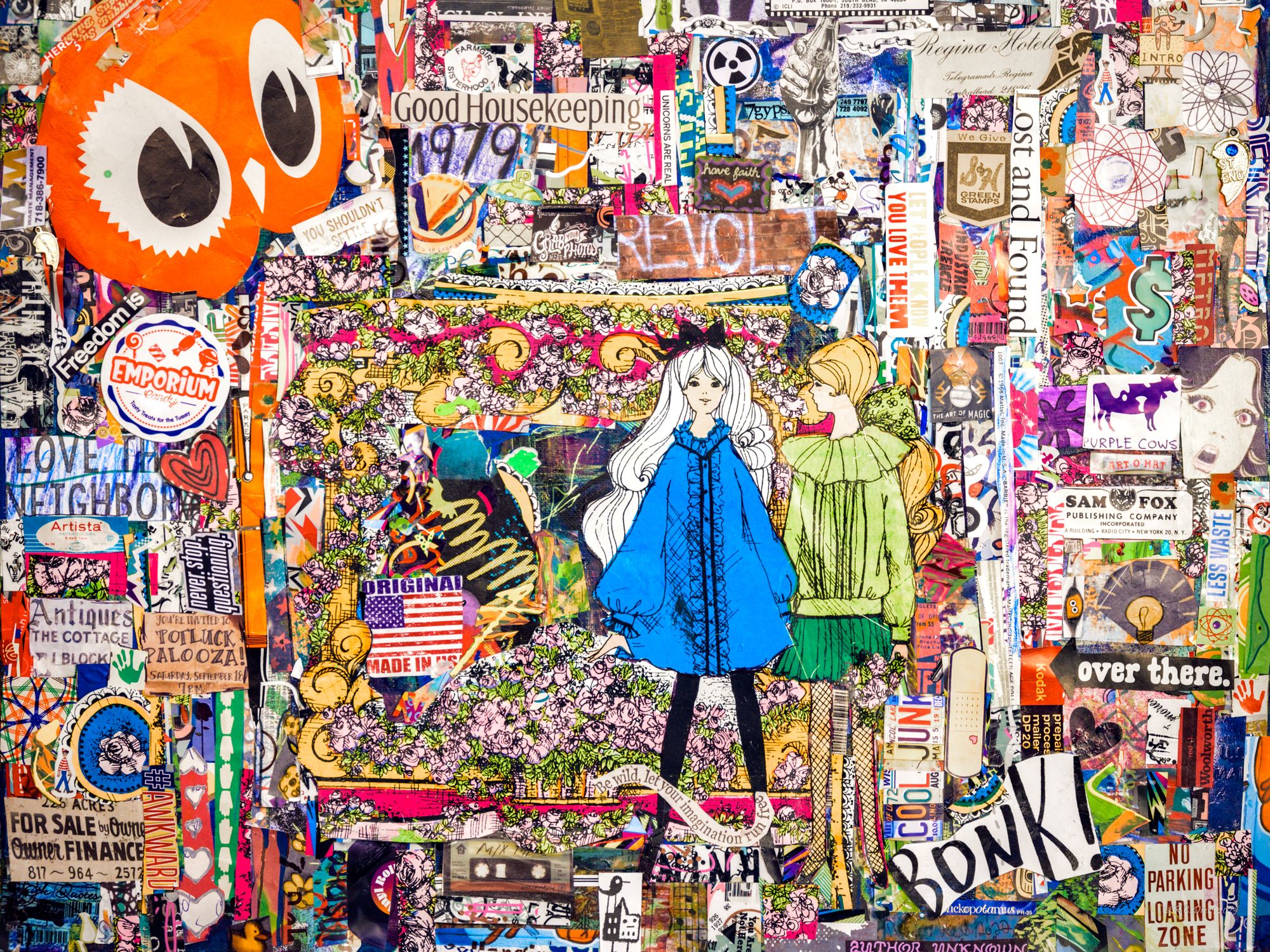 Potluck Palooza | 2022 | Phena Keil (Photo by R.C. Drews for Project Optimist)
Potluck Palooza
A more contemporary piece, Phena Keil used stickers, rub-ons, magazine cutouts and even a salvaged Barbie doll case. It has some old and new nostalgia with a hint of humor.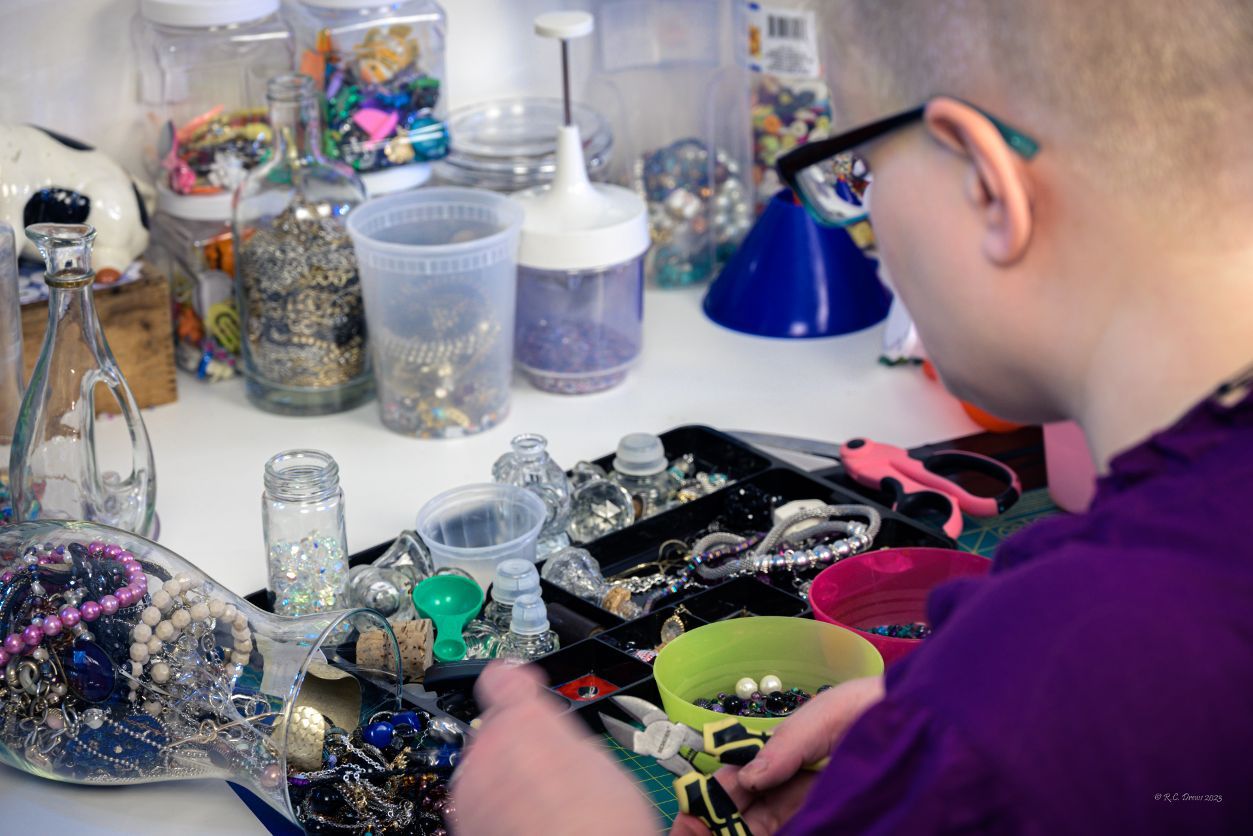 Phena Keil sorts through items collected for her artwork in Fergus Falls, Minn., on May 5, 2023. (R.C. Drews for Project Optimist)
Here's another chance to donate!
Odds and ends
If you or your employer wants to back Project Optimist's important depolarizing work, send me a note! I'm leading our sales and fundraising efforts this year. In addition to individual donations, I'm looking for businesses to sponsor our Shades of Purple dialogue program.
We're also hiring two very important positions: a part-time social media storyteller and a full-time managing editor. I'm hoping these two people will take our journalism and community engagement to the next level. Read about the positions here. Share with friends. And contact me to apply!
Be well!
♥ Nora Hertel, founder of Project Optimist
Copyright © 2023 The Optimist, All rights reserved.
P.O. Box 298, St. Michael, Minnesota 55376