Book preview! Winter love, garden prep and recycling insights from a MN scientist
We've got a peek at Dr. Heidi Roop's book on climate solutions
We've got a peek at Dr. Heidi Roop's book on climate solutions
It's spring — technically
Greetings friends! Nora here.
Spring started Monday. But this last week has been pretty wintery in central Minnesota. I slid off Interstate 94 Thursday amid the slushy winter storm. Fortunately, I didn't hit or harm anything and got towed out of the median within 30 minutes. Very fortunate.
While I long for warmer days, I am trying to appreciate the snow. I hope to squeeze in a last day of skiing this weekend.
Dr. Heidi Roop advises us to appreciate winter in her new book, "The Climate Action Handbook." I met Heidi back in 2021, and she's been on my expert list since then. She is the director of the University of Minnesota Climate Adaptation Partnership and an assistant professor of climate science and extension specialist at the University of Minnesota.
I learned through Twitter about Heidi's book and reached out to the publisher for permission to run an excerpt. And that's what I've got for you today. The book features 100 environmental solutions and colorful infographics throughout. It came out yesterday. You can order it here.
Support Project Optimist with a donation!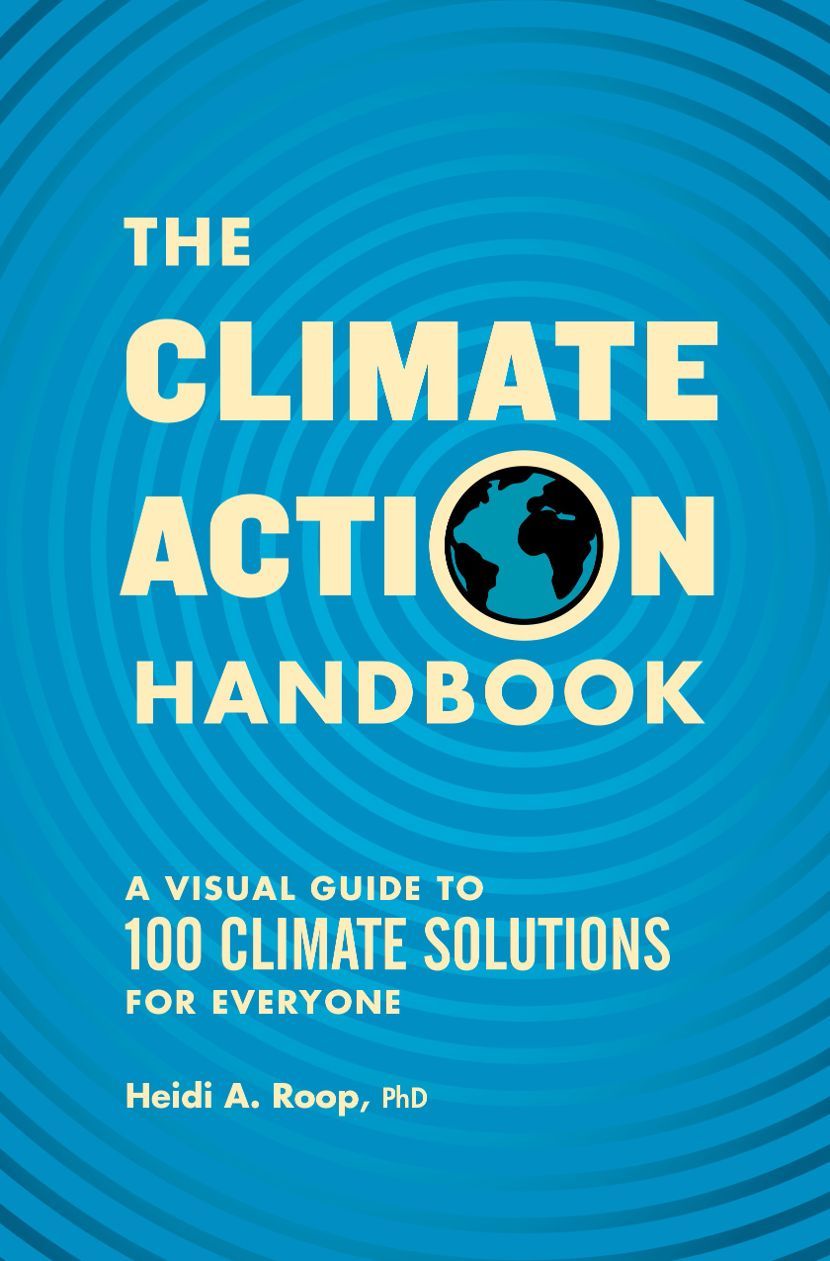 (c)2023 by Heidi A. Roop PhD. All rights reserved. Excerpted from The Climate Action Handbook by permission of Sasquatch Books.
'The Climate Action Handbook'
by Dr. Heidi Roop
Cherish Winter Recreation (#80)
While winter is sometimes used as a scapegoat for climate-change deniers, winter is the canary in the coal mine for climate change. Places like Minnesota are actually experiencing their most dramatic warming in the winter months. Minnesota's average daily winter low temperature has warmed over 15 times faster than its average daily summer high temperature. This doesn't mean cold weather is going away, but the average characteristics of winter are changing.
Warmer winters can stress water supplies, support the survival of pests that need frigid temperatures to keep their populations in check, and can negatively affect winter recreation. In the United States, tens of millions of people engage in winter sports like skiing, snowboarding, and snowmobiling. From 2015 to 2016, winter recreation brought $20.3 billion in economic value to the US economy and supported nearly 200,000 jobs. Activities that rely on snow — including glacier tourism and skiing — and the many cultures, identities, and subsistence practices connected to winter, are already experiencing negative impacts from loss of snow cover and loss of winter.
What can we do? The winter recreation industry needs to reduce emissions from operations like snowmaking, which is both water- and energy-intensive. This shift needs to happen even as many ski resorts are relying on snowmaking to stay open. Some winter enthusiasts are changing their habits as snow gets harder to find. Some downhill skiers are swapping out the chairlift for a sweaty climb up a mountain as they seek higher elevations with snow. You can also join professional and amateur winter athletes alike in channeling your energy toward climate education and advocacy. In 2007, a pro snowboarder founded the organization Protect Our Winters (POW); today, it is 130,000 people strong. Even if winter isn't your favorite season, finding a group of people who share similar goals and interests can help drive climate action. This shift from "I" to "we" can help sustain climate work and lessen feelings of helplessness and hopelessness.
Will you cherish your wintertime activities and consider advocating to protect the seasons and activities you love?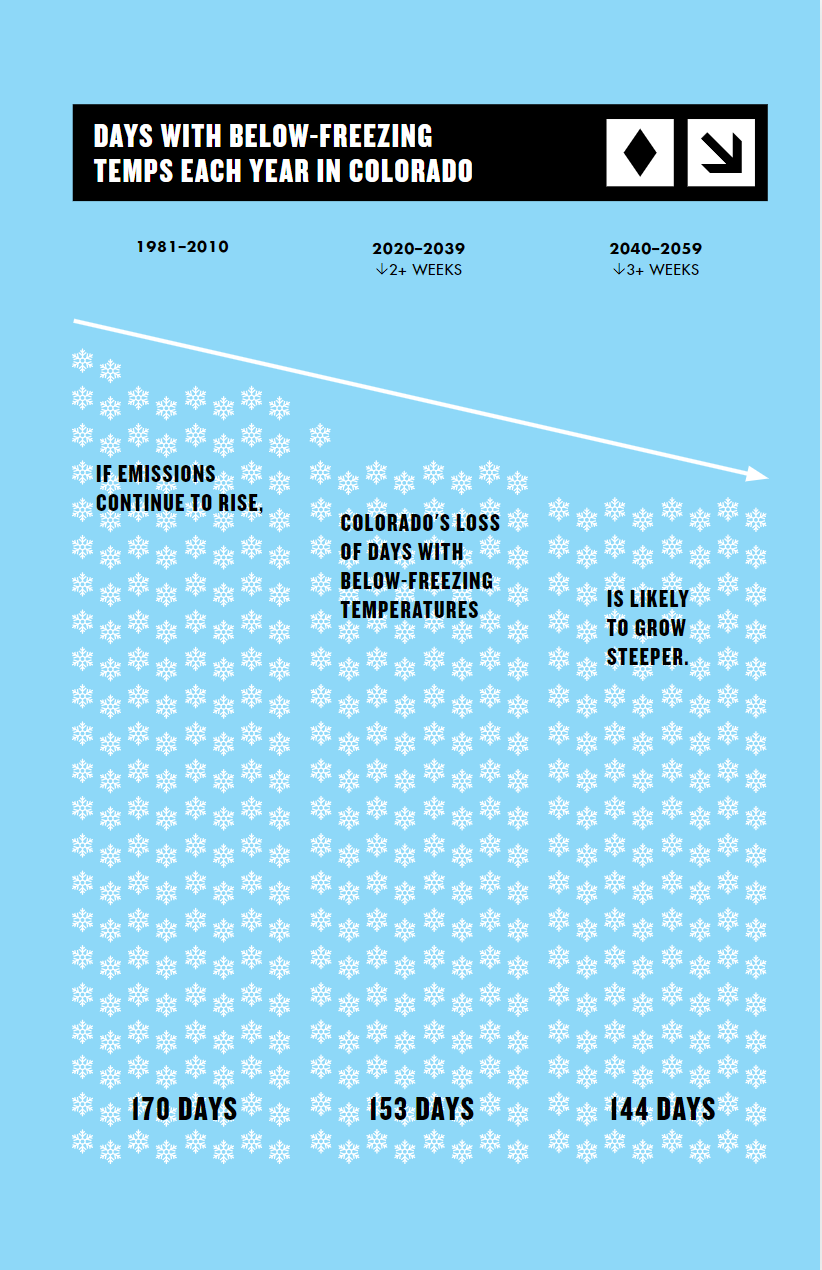 Data visualization on days below freezing in Colorado by Joshua M. Powell. Excerpted from The Climate Action Handbook by permission of Sasquatch Books. (c)2023 by Heidi A. Roop PhD. All rights reserved.
Garden for a Greener Planet (#61)
As we consider climate change in our homes, we should also consider our yards, gardens, and green spaces. Many gardeners are likely familiar with the USDA's plant hardiness zones, which are based on the average annual minimum winter temperature, and are often used to determine which plants are most likely to thrive in a given region. In a warming world, plant hardiness zones have shifted northward, changing the types of trees, flowers, shrubs, and other plants that thrive in different regions.
As warming continues, selecting plants adapted to new climate conditions will help ensure a thriving and resilient garden. This is particularly true for trees, which are increasingly showing a northward shift in their range. One study documented that across 30 eastern US states, 70 percent of the tree species assessed were migrating northward. Want to know what might thrive in your area? Reach out to your local extension service for information and advice. Other climate-friendly gardening options include planting perennials and pollinator-friendly plants and using less turf grass.
Interested in documenting the changes you see in your yard or community? The USA National Phenology Network is always looking for observers around the country to help track the timing of seasonal changes in plants — like when cherry blossoms or lilacs bloom or when the fall colors arrive. These locally collected data are critical for helping to track changes across plant and animal communities.
When it comes to the lawn and gardening tools we use, opting for electric is key. Take gas leaf blowers as an example. Those seemingly small devices pack a real climate punch. A consumer-grade leaf blower emits more pollutants than a large truck! In fact, these tiny but mighty gas guzzlers may soon be outlawed; California has plans to outlaw such machines as early as 2024.
In addition to making a shift in the plants you grow at home, consider encouraging your local parks department and other yard service providers to make the shift as well. It can be good for their wallets, their workers, and all of our health, not to mention our climate!
Will you adapt your yard and garden and go green with your equipment?
Promotion from Project Optimist
Project Optimist is growing and we need your help!
Make a donation to our spring drive to help us report on central Minnesota solutions, hire local artists and host meaningful conversations.
Become a supporter!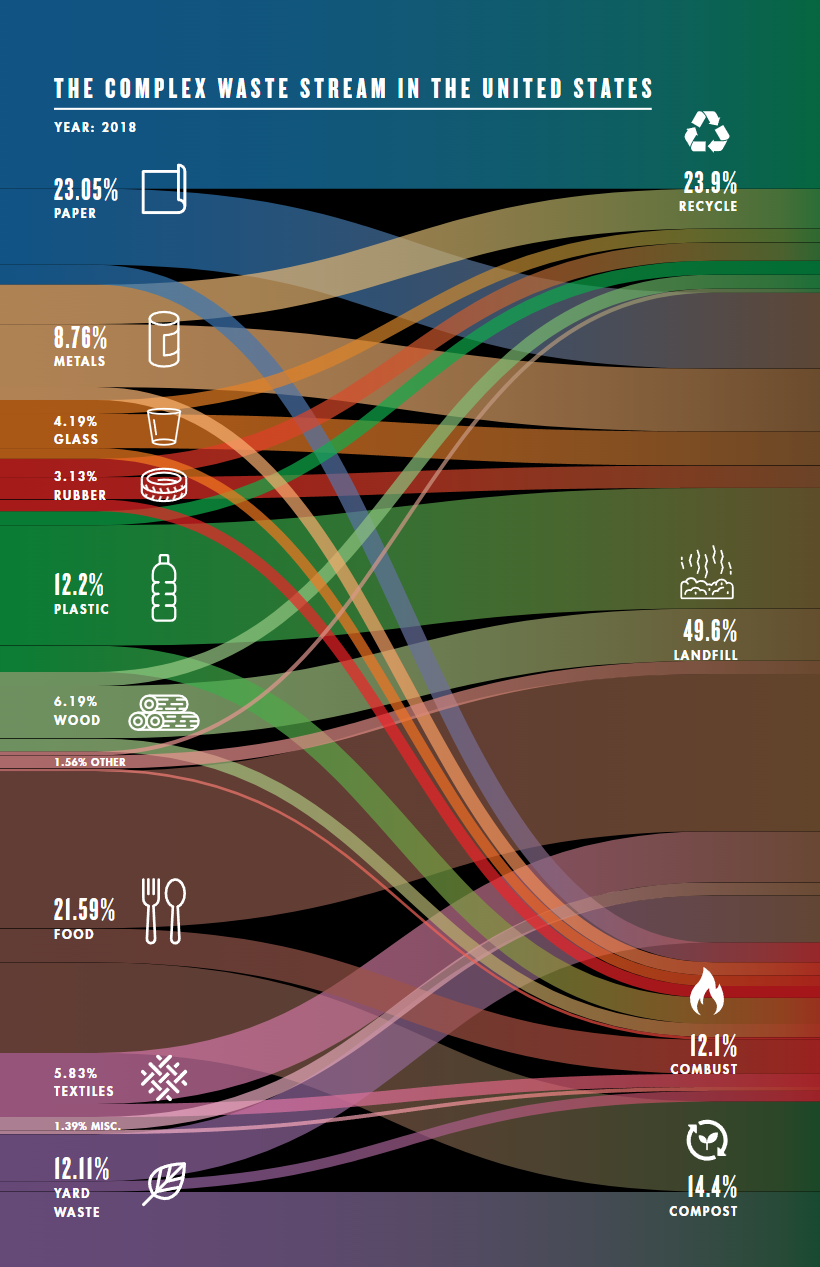 Illustration on the U.S. waste stream by Joshua M. Powell. Excerpted from The Climate Action Handbook by permission of Sasquatch Books. (c)2023 by Heidi A. Roop PhD. All rights reserved.
Reduce Waste and Recycle (#62)
We love our waste. Well, maybe we don't love it, but we sure do create tons of it. In fact, the United States produces hundreds of millions of tons of waste each year. In 2018, it produced nearly 36 million tons of plastic waste with about five pounds of total waste produced by each person every day. More than 75 percent of that plastic waste went to the landfill. As of 2019, an estimated 40 percent of households don't have access to recycling of any kind. So it may be unsurprising that less than 10 percent of plastic produced in the United States is recycled.
Why? Recycling is expensive, virgin materials can be cheaper than recycled ones, and China, a major market for US recyclables, is no longer accepting this waste. Recent investigative journalism also uncovered that the plastic industry intentionally misled the public into thinking that plastic recycling worked well. Why? To sell more plastic goods.
Of course, other materials like paper, glass, and metal can be recycled. Cardboard and paper accounted for nearly 67 percent of all recycled materials in the United States in 2018. If paper recycling adoption increased even slightly from current-day levels, there could be up to a 7 percent reduction in annual emissions from the paper industry. Even better, aluminum recycling can use up to 95 percent less energy than creating new aluminum products.
So what can you do? Reduce the amount of waste you generate. Be thoughtful about your recycling. Avoid "wish cycling," by tossing something you hope is recyclable but in reality might muck up the system or contaminate otherwise recyclable waste. Learn more about your local recycling process: Do you really know what happens to the trash and recycling you generate? We also need to advocate for more comprehensive and economically viable recycling options. About 50 percent of waste globally is industrial, so expansion of recycling efforts for all waste streams is essential. New waste fee structures, redeemable deposits, advances in processing, reduction in packaging use, and improved industry regulation are all likely to help accelerate both residential and commercial recycling.
How will you clean up your garbage and recycling efforts?
Here's where you can find a copy of "The Climate Action Handbook"!
In other news
I am still looking for a few moderators to support the Shades of Purple dialogue program. The training is very thorough, and I'm happy to cover the cost for any volunteers and provide a stipend for those who need it. I need to get folks signed up ASAP, so please send me a note if you're intrigued.
I am also looking to fill two full-time positions. The people I hire will help shape Project Optimist and can quickly move into leadership roles with salary to match. I'm hiring an event planner and a revenue officer. Send me a cover letter and resume.
I can be reached at nora@theoptimist.mn or by phone: 320-247-5899.
I've also got something outside Project Optimist to share with you. It's a local farm-to-school event.
Tomorrow (March 23), Cool School Cafe is holding a networking brunch and workshop in Elk River, Minn., for those interested in improving fresh and local food in schools.
It will take place from 9 to 11 a.m. at the Oliver Kelley Farm in Elk River with a brunch featuring Minnesota-based foods. Attendees will hear from school districts about their current menus and what types of products would benefit their meal programs. There'll be attendees from stakeholder groups including the Minnesota Department of Agriculture, local farmers and producers, food service distributors, school nutrition professionals and more. Check it out if that's your thing!
Be well,
♥ Nora Hertel, founder of Project Optimist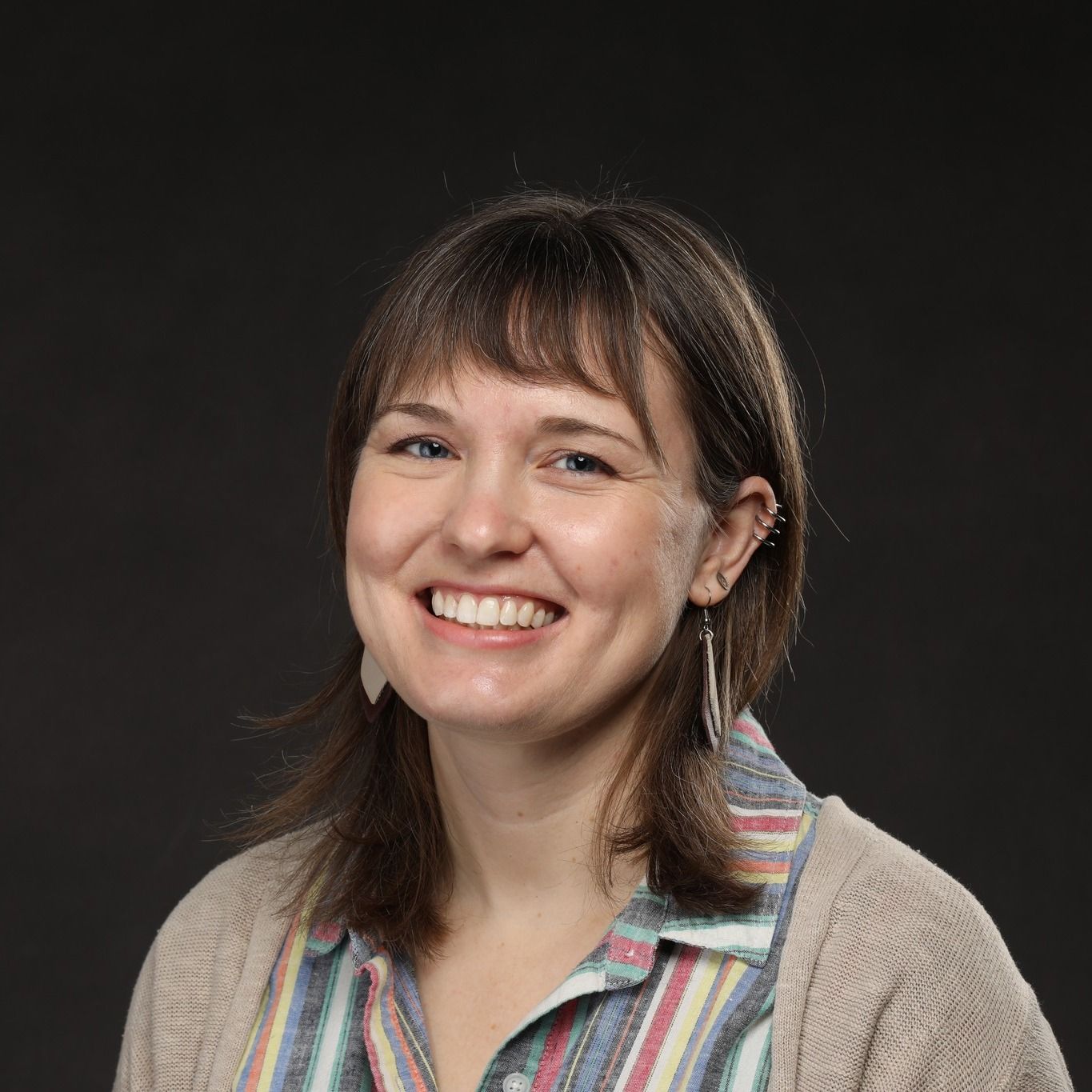 Here's another chance to donate!
Copyright © 2023 The Optimist, All rights reserved.
P.O. Box 298, St. Michael, Minnesota 55376