Check out the bold artwork of Wasima Farah in this week's Artist's Joy feature
She explores the challenge of being a first-born daughter in a Somali family.
She explores the challenge of being a first-born daughter in a Somali family.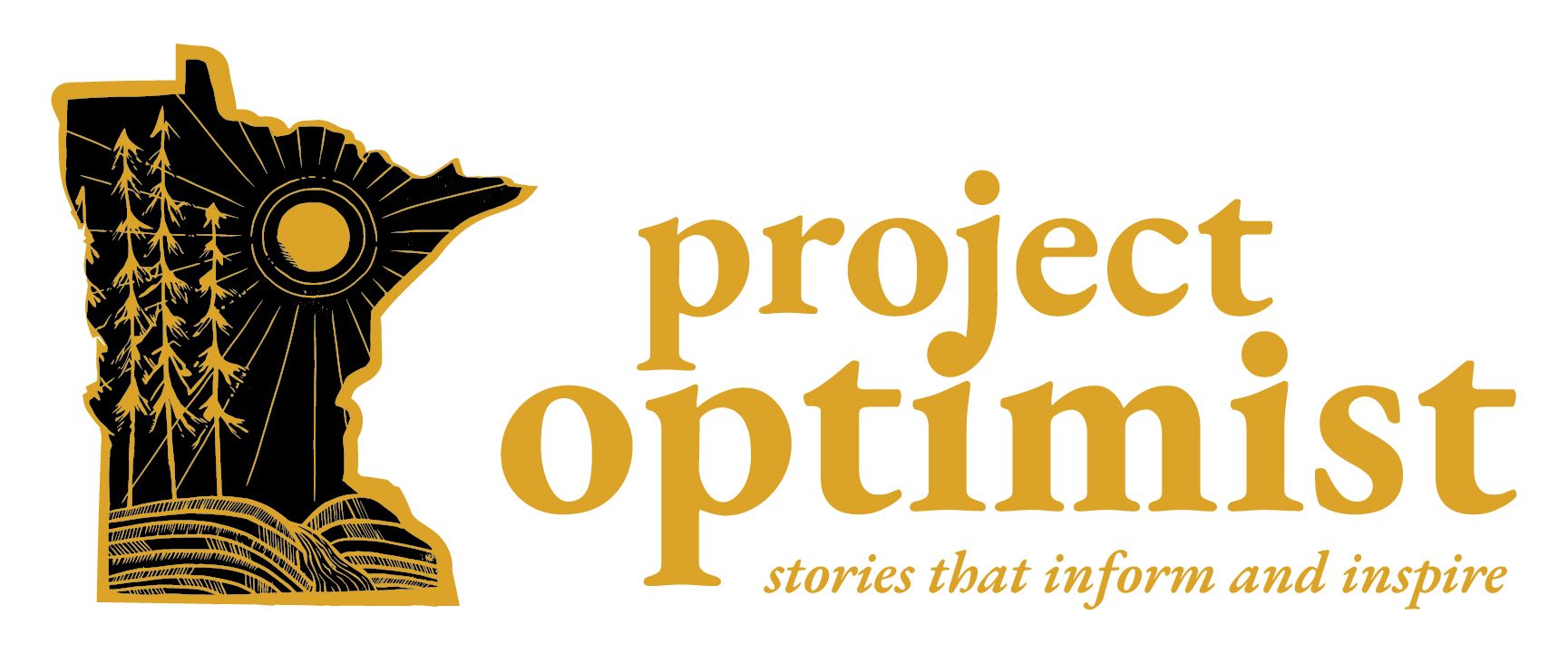 Simple and stark
Happy winter friends! Nora here, with a new installment of the Artist's Joy series.
I've been enjoying the cold, crisp beauty of early December in Minnesota, so long as I dress warm enough.
I think the art of Wasima Farah can help us all warm up. Her colors are bold. And her style is simple and stark. I love the combination.
I saw her Growing Pains series in person at the Soomaal House of Art in Minneapolis a few weeks ago. The exhibit is over, but we've got three pieces from the series with insights directly from Wasima.
If you'd like to support our art features or our solutions journalism, please make a donation to Project Optimist today! We're running our first fundraiser (ever!) this month.
Donate to Project Optimist
And if you missed last week's newsletter, you may wonder why we've changed our name from The Optimist to Project Optimist. Check out last week's edition for the scoop.
Artist's Joy: Wasima Farah and 3 pieces from Growing Pains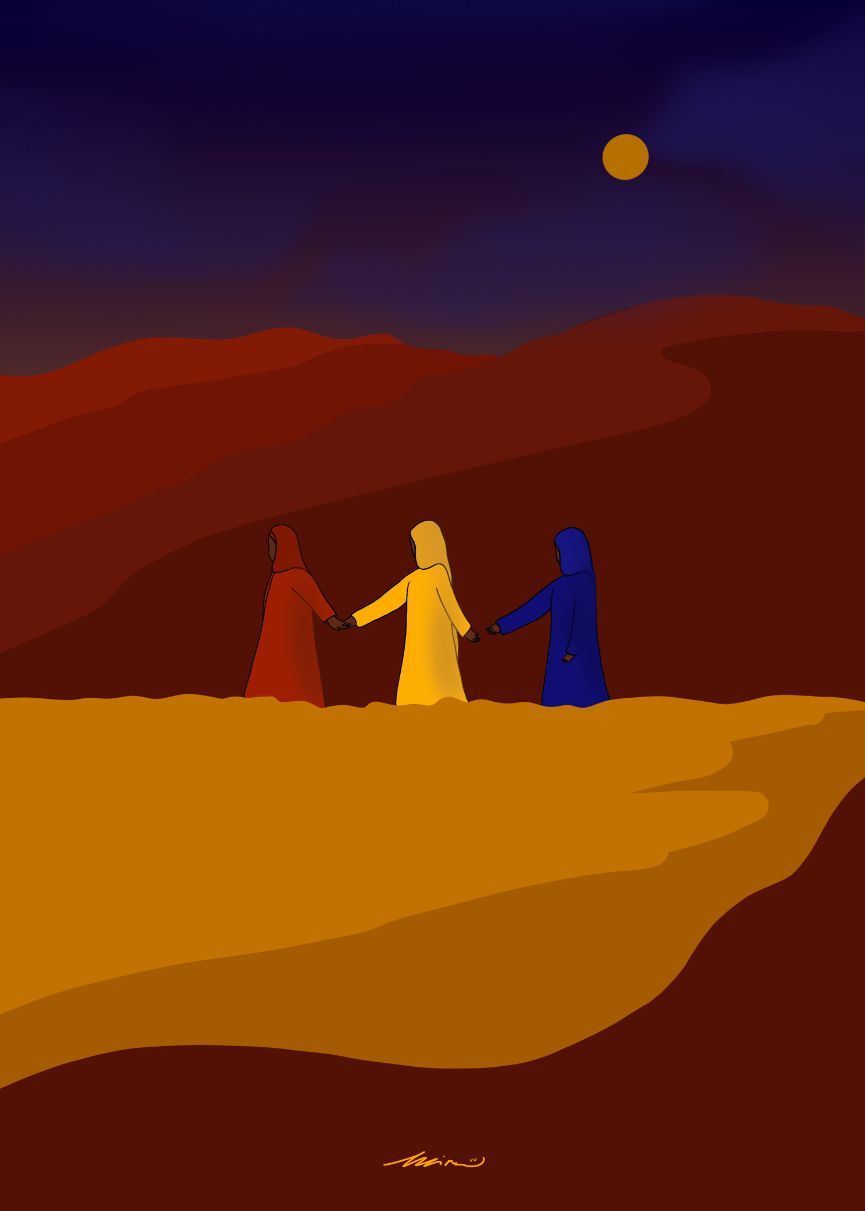 'Don't be afraid to be seen trying' | Digital Art | 2020 (Courtesy of Wasima Farah)
Don't be afraid to be seen trying
Growing up, I didn't think I had a voice that carried any weight at all. Being the eldest daughter in a Somali household, all of the weight was carried on my shoulders but never through my voice.
Keeping my vulnerability bottled up put a strain on my mental health. At some point I had to do something and process my life and heal in some way to survive for myself and for my family. I was drawn to drawing, sketching out my mood of the day in my journal, to give my emotions a voice.
I went for the three boldest colors I know to convey power: red, yellow and blue. I related red to a mother (hooyo) – wise, angry, tired, the future. Yellow was the inner child, full of hope, the past. And blue was vulnerable and honest, the present. These three primary colors embodied the characters I would sketch out here, where I started to give my emotions a voice, leading to my ongoing series, Growing Pains.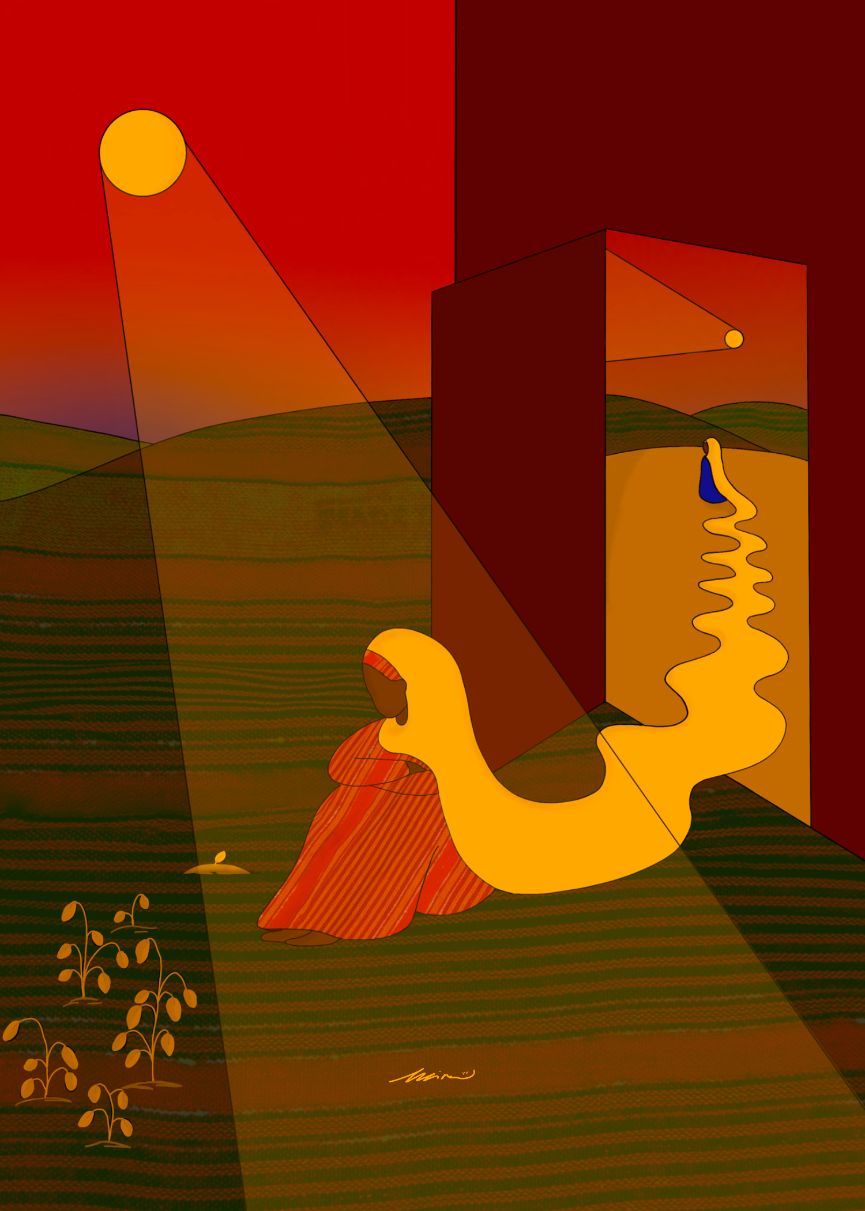 'It's okay if things don't change quickly' | Digital Art | 2021 (Courtesy of Wasima Farah)
It's okay if things don't change quickly
Growing Pains is an ongoing series discussing the themes of the eldest daughter through the lens of a Somali-American, Black Muslim woman. This series has helped me process my life and give myself and others emotional support with words of affirmations as a form of self-healing.
I start by sketching out the visual images that I have processed in my head, I then use digital art as it gives me the freedom to play with color and patterns as color placement is important in my pieces.
With the meanings attached to the colors, each piece of mine is a cryptic journal, showcasing my current emotions through the three characters: red, yellow and blue. I make my pieces more personal by adding my Somali heritage design patterns called "hido iyo dhaqan" to the clothes of the character and on the green fields.
Feature continues below the promotion.
Promotion from Project Optimist
Help us grow with a donation!
We launched our first fundraiser for Project Optimist last week. Help us raise funds to support our solutions journalism, art features and conversation project. Next year we have podcasts planned with stellar audio producers on board. We have great stories in the works on innovation in environmental, business and social sectors. And we'll be travelling around Minnesota to lead conversations on difficult topics. We need your help to grow!
Donate to Project Optimist!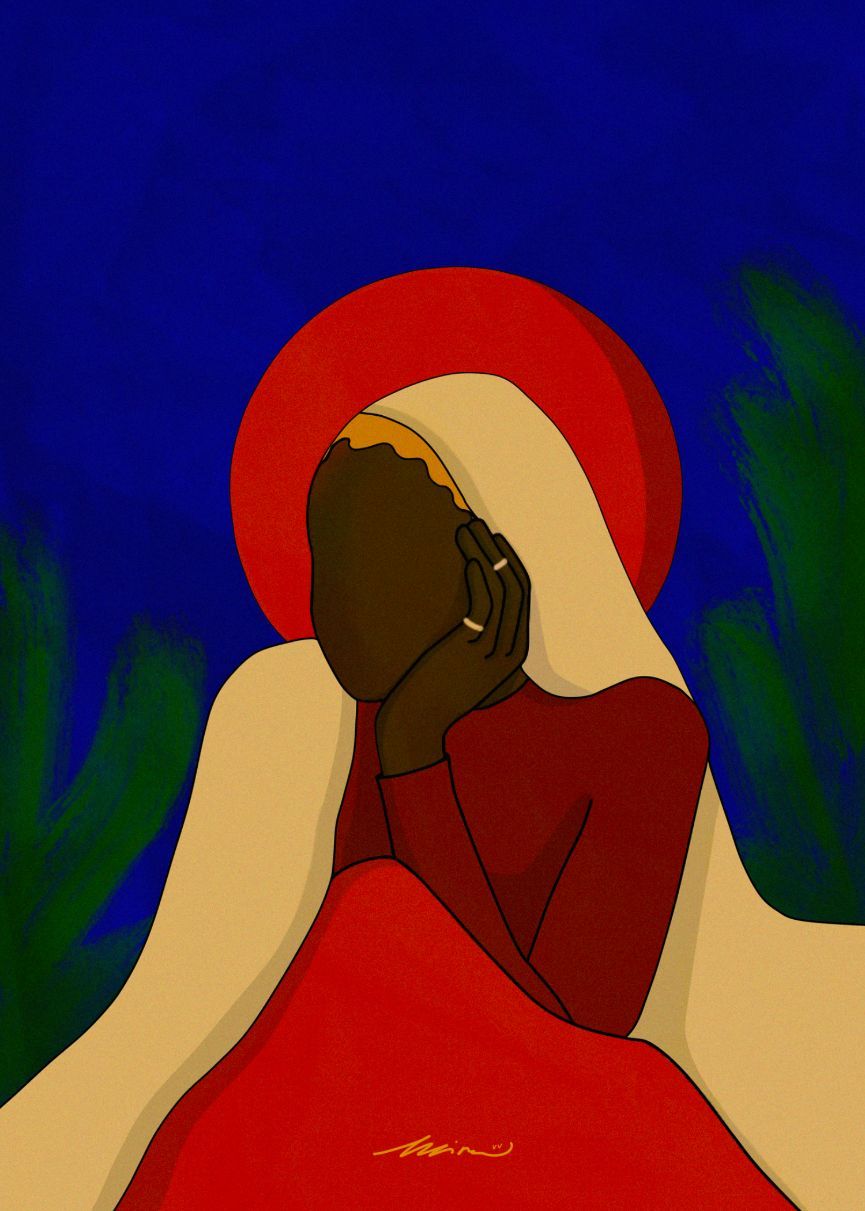 'Take care of yourself, always' | Digital Art | 2020 (Courtesy of Wasima Farah)
Take care of yourself, always
Making these pieces has given me the strength of understanding what I was going through and has given my voice a loudspeaker. This was my form of self-healing, my blanket as I sleep at night, and I hope that it can be that for others as well.
This is why I started to make pieces like "Take care of yourself, always" with images of Black Muslims in a peaceful state as this was something that wasn't shown often in art. I made it my goal to create more pieces like this so we can see ourselves in bright and bold colors.
The titles add to the message of the pieces as I interpret what I had felt making the images, wrapping them with encouraging and hopeful words not only to remind myself, but to share with everyone else, especially other eldest daughters.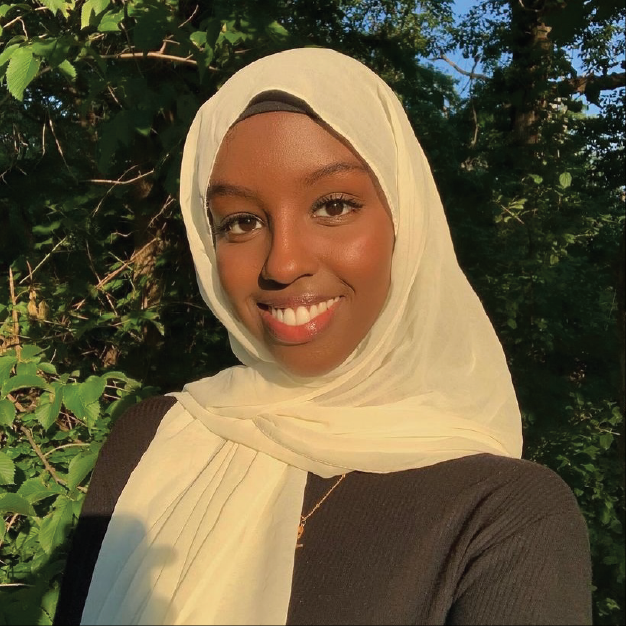 Artist Wasima Farah (Courtesy of Wasima Farah)
Meet the artist
Wasima Farah is a Somali illustrator and visual artist based in Minnesota. She is a graphic design and creative strategist at Soomaal House of Art and Beautiful Light House and creative director of The Digital Sisterhood. Wasima's artistic work includes vibrant illustrations centering Black Muslim women in graphic design and videography. She is inspired by women's empowerment and uses primary colors to express a confident message. Her goal is to make art that others can relate to and be motivated by.
Bio in Somali
Wasima Farah waa farashaxanad Soomaaliyeed oo xulata ku muujinta, midabo ku soo jiidanaya, dareenka aadamaha. Waxaa shaqadeeda saameeya quwaynta iyo sheekooyinka ku fadhiya hablaha Madow ee Muslimiinta ah.
Final thoughts
We're in the midst of our first fundraising drive, and every little bit helps. Thanks to our fiscal sponsor the Tiny News Collective, all donations are tax-deductible.
It's important to Project Optimist's long-term sustainability to have reader support along with a range of revenue sources, including grants and sponsorships.
Thanks to those who have donated. And thanks to all those considering.
Donate here!
If you can't spare the funds, please share the newsletter with your social circle to help us grow our subscriber base. That's just as important as donations are!
Stay warm and be well!
♥ Nora, founder of Project Optimist
P.S. Here's a picture of my dog, Freya, enjoying the snow!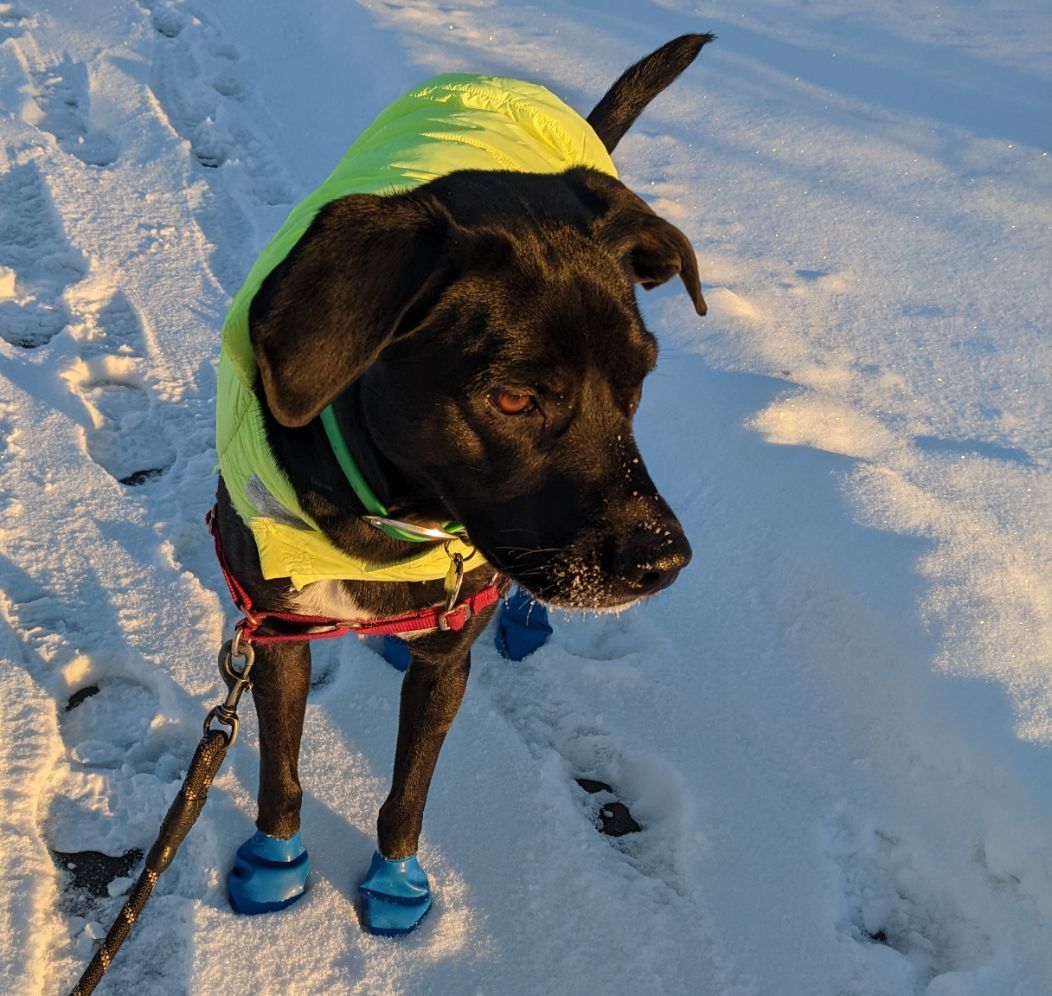 My dog Freya enjoyed a walk at 1 degree Fahrenheit recently thanks to her boots and vest. But she did not enjoy wearing the boots and vest! (Courtesy of Nora Hertel)
Our mailing address:
P.O. Box 298
St. Michael, Minnesota 55376

Copyright © 2022 The Optimist, All rights reserved.