A new series and a new project! Our Artist's Joy series launches with Steven StandingCloud
Check out the work of Steven StandingCloud, Anishinaabe artist in Northern Minnesota.
Check out the work of Steven StandingCloud, Anishinaabe artist in Northern Minnesota.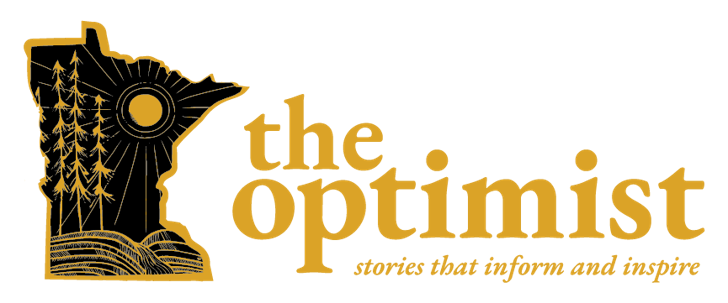 New month, new projects
Greetings friends! And happy fall!
Nora here, with some exciting updates. This week we're featuring the work of Anishinaabe artist Steven StandingCloud. We have three of his favorite pieces to launch an intermittent series called Artist's Joy.
Thanks to Steven for allowing us to publish his work. From the start, The Optimist has been a place for art and journalism, for creativity and pragmatism, inspiration and information.
Steven's pieces are paired with insights to explain some of the symbols and stories behind them. I'm connecting with other artists to feature pieces that bring them joy as well. If you have anyone in mind, send me a note!
Next week we'll have a great piece of original journalism on a solution in higher education. And I'm wrapping up a few stories on burnout and responses to it. Dang, is it a tough challenge, but there are people working on it.

Fanfare, please!
I have another program that I'm ready to announce. It's called Shades of Purple: Dialogue across difference in greater Minnesota. It's a conversation project. We'll coordinate a series of community events that bring greater Minnesotans together to discuss controversial topics.
Read about the Shades of Purple project
We'll follow the events with journalism to highlight civil dialogue and uplift moderate voices. I'm waiting to hear back on a big grant that could fund the first two years of the project. If that falls through, I'll be piecing together funding in other ways.
One way or the other, Shades of Purple will happen!
Artist's Joy: Steven StandingCloud and his 3 favorite pieces
Descriptions provided by the artist with light editing by The Optimist for style.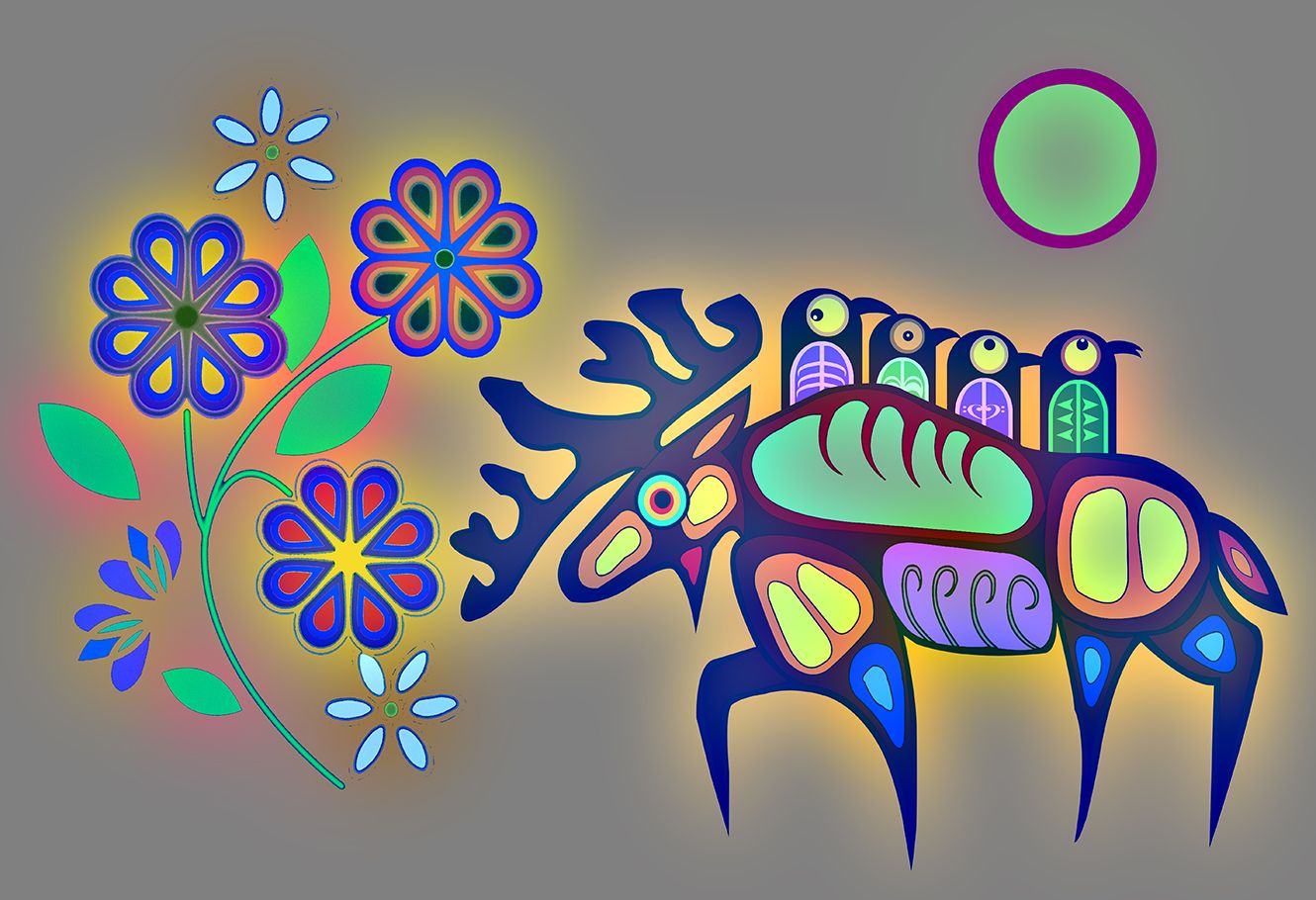 A piece of art by Steven StandingCloud called Finding Our Way. The style of art is called skeleton art which is a contemporary Ojibwe art form. (Courtesy of Steven StandingCloud)
Steven StandingCloud is an Anishinaabe artist enrolled with the Red Lake Band of Chippewa Indians and descendent of the Grand Portage Band of Lake Superior Indians in northern Minnesota. He has been an artist for most of his life and currently works in the medium of digital graphics. Steven is a Woodlands and Plains artist, with his art forms inherent to the Anishinaabe and Plains people as his great grandfather was Lakota.
Steven wanted to pursue computer graphics at the beginning of his college career in the 1980s, but there were no such programs at the time. He is self-taught in the use of Adobe Photoshop, which he uses to express his pride in the beauty of Anishinaabe and Lakota art forms.
Art is and has always been part of the spiritual and religious realm connecting the physical self and being with the spirit and visionary reality of the universe. It brings protection, power and healing. American Indian art and beauty is part of cultural identity, tradition and spirituality.
To help connect others to their place in the spiritual realm, Steven has painted tipis, created murals, drawings, paintings and computer graphics. Outside of his art pursuits, Steven has spent many years in college, graduating with associate's and bachelor's degrees and a master's in business administration. He then worked with tribal governments in the state of Minnesota, including his own tribe, and assisted in planning, economic development and business management.
For more information about Steven or to inquire about his work, call (218) 387-5279 or email sstandingcloud@hotmail. You can view more of his work at standingcloudgraphics.com.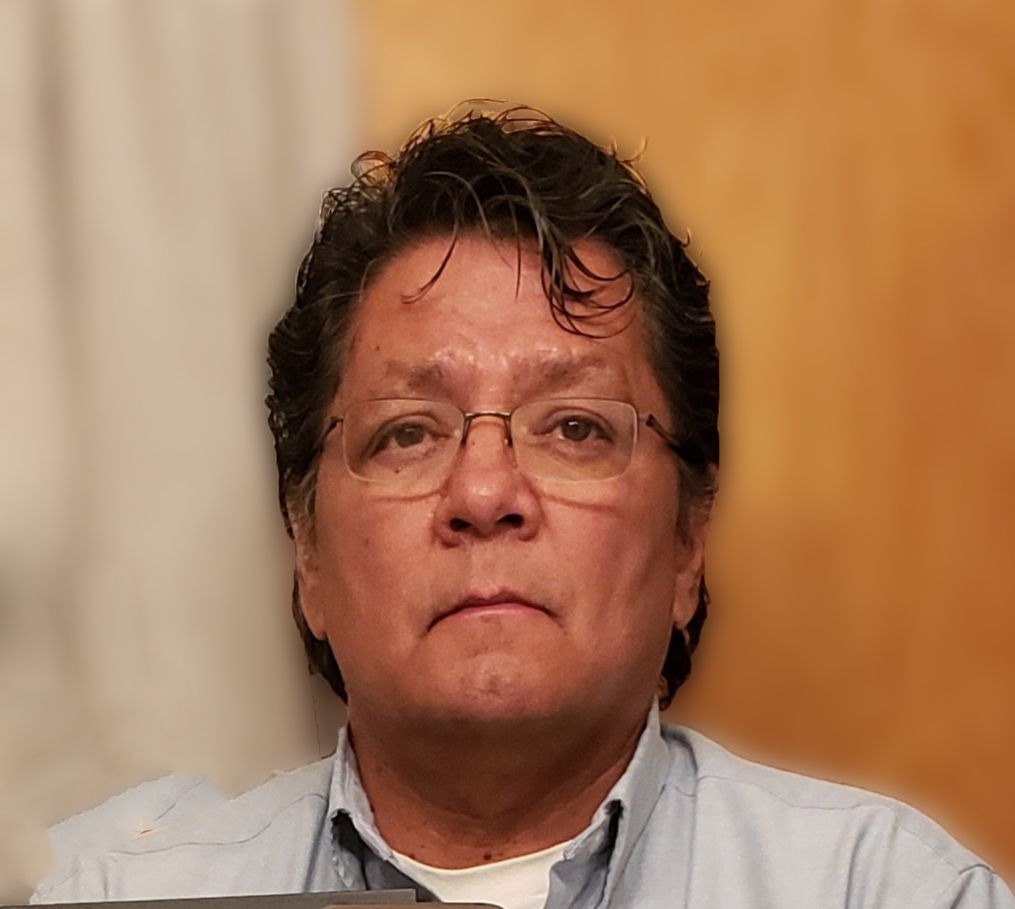 Artist Steven StandingCloud. (Courtesy of Steven StandingCloud)
Steven's favorite piece: 'Finding Our Way'
The first piece at the top, the graphic with a moose and birds, is called "Finding Our Way." The style of art is called skeleton art, which is a contemporary Ojibwe art form. Each image depicted has meaning to the artist.
The sun represents the life force driving the living entities of the bird, moose and floral. Floral images are representative of Ojibwe art forms and culture that can be found in beadwork, clothing and other art mediums. Therefore, the floral image represents the Ojibwe culture. The moose represents skeleton art which is an emerging art form that is carrying us into the cultural future. The birds represent children who see these art forms and learn of who they are as a people. The soft colors represent a dream state that is the vision of those who see our culture in the future.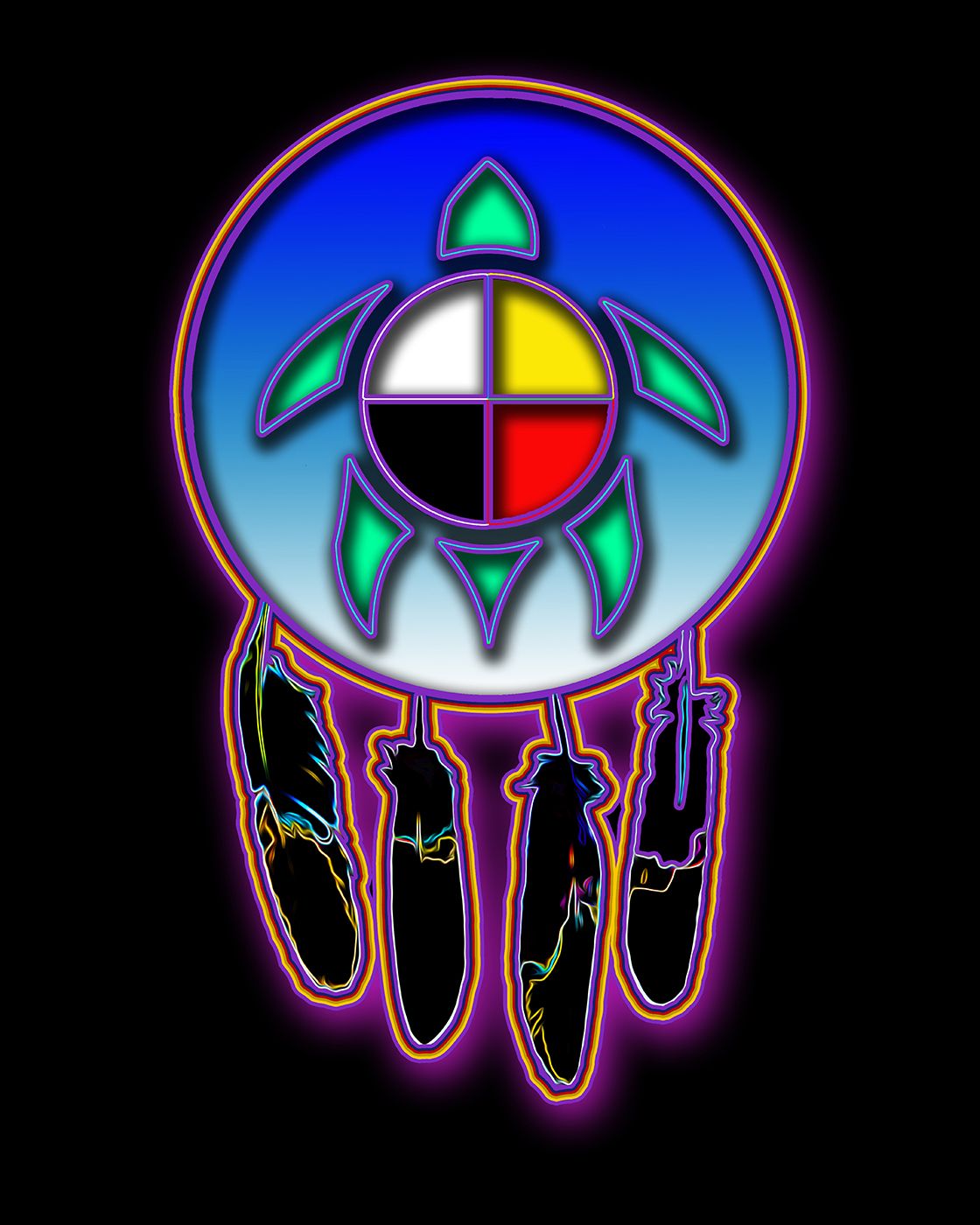 A piece of art by Steven StandingCloud called All My Relations. The turtle represents Mother Earth which carries all races of man. (Courtesy of Steven StandingCloud)
Another favorite: 'All My Relations'
In the piece called "All My Relations," the turtle represents Mother Earth, which carries all races of man. The medicine wheel is a sacred symbol that represents all knowledge of the universe. The four colors represent the four directions, seasons and four sacred paths of all people.
This piece has personal meaning to the artist. His mother, who has passed on, was named Snapping Turtle Woman. The blue represents the spiritual beyond the physical and is a window to The Way.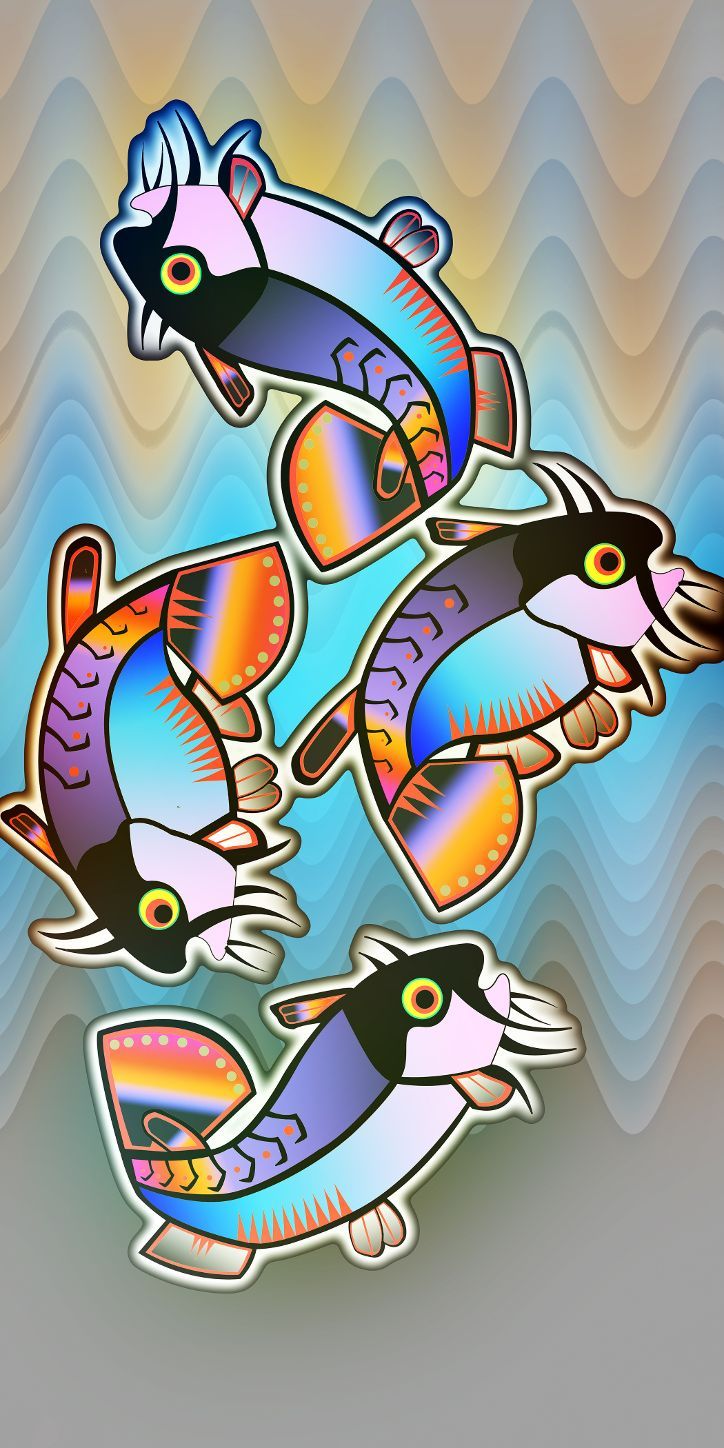 A piece of art by Steven StandingCloud called Our Clan. The bullheads in this piece represent the Bullhead Clan. (Courtesy of Steven StandingCloud)
Third Favorite: 'Our Clan'
The bullheads in this piece represent the Bullhead Clan. If one is of the Bullhead Clan, they traditionally are teachers. They pass down all the traditions, knowledge and culture of the people. They are important to the survival of the culture and people.
Again the use of skeleton art is an art style used to represent the new direction of teaching through art.
While not a member of Bullhead Clan, Steven is fond of it after spending years in education as a teacher, advisor and student. He respects the role of teaching in contemporary and traditional times.
Final thoughts
Thanks for seeing this new feature through to the end! Please share your thoughts with me: nora@theoptimist.mn.
If you're hungry for some solution-focused journalism, here are a few of my favorite stories from recent weeks.
This program is blazing a trail for women in wildland firefighting: As wildfires worsen and the state faces a firefighter shortage, a California pilot program aims to recruit women to fight fires. But the field remains full of obstacles. - From The 19th
Girl Scout cookies help fund long-awaited play space for shelter dogs: A troop of 11-year-olds from Sauk Rapids planned, paid for and built a new play area for a St. Cloud animal shelter. - By my pal Jenny Berg at the Star Tribune (she didn't ask me to do this!)
Experts: Peer Recovery is a Valuable Yet Under-Sourced Resource in Addiction Treatment: Peers — people who have beaten addiction — are a secret weapon for recovery. Too secret; these crucial workers are usually under-used, underpaid and badly supervised. - From 100 Days in Appalachia
Be well.
♥ Nora
Our mailing address:
P.O. Box 298
St. Michael, Minnesota 55376

Copyright © 2022 The Optimist, All rights reserved.